SAN ANTONIO — Neighbors who live near a west side Dollar Tree say they don't want to go outside and they can't sleep.
They blame a loud, screeching noise coming from the store.
The manager told San Antonio Police that the noise is coming from a sound machine that was installed to keep solicitors away from the property, located on the corner of Culebra and Zarzamora.
KENS 5 learned that since our report aired, the sound has been turned off.
SAPD says since Dollar Tree isn't breaking any laws since the noise isn't louder than ordinance allows.
Friday, Councilman Mario Bravo went to investigate the sound for himself. Pastor Vincent Robinson from Harpers Chapel Ministries also went by the Dollar Tree. Both talked with managers at the store, and were met with open and respectful conversation.
What's next, said Robinson, is a meeting between community leaders, store managers and SAFFE officers to brainstorm a better solution for everyone.
"The noise is so irritating because it's not making no difference," said west side resident, Carlos Gonzalez. "People are gonna come, they're gonna go."
Unhoused neighbors who live behind the Dollar Tree say there are more humane ways to ask them to relocate.
"It's hell," said west side neighbor, April Bishop. "They put it loud to think we're gonna leave our community, our home, our area. It's not gonna happen. It makes me want to stay more."
Three blocks from the Dollar Tree, off Lombrano Street, is Harpers Chapel Ministries.
"The west side. This is my heart," said Robinson, a San Antonio native, who's served as lead pastor for two years. "My grandfather was a pastor here as well."
Every Wednesday, Pastor Robinson hosts a Resource Hub where neighbors are offered water, food, vaccinations, showers, counseling, minor medical services and a needle exchange.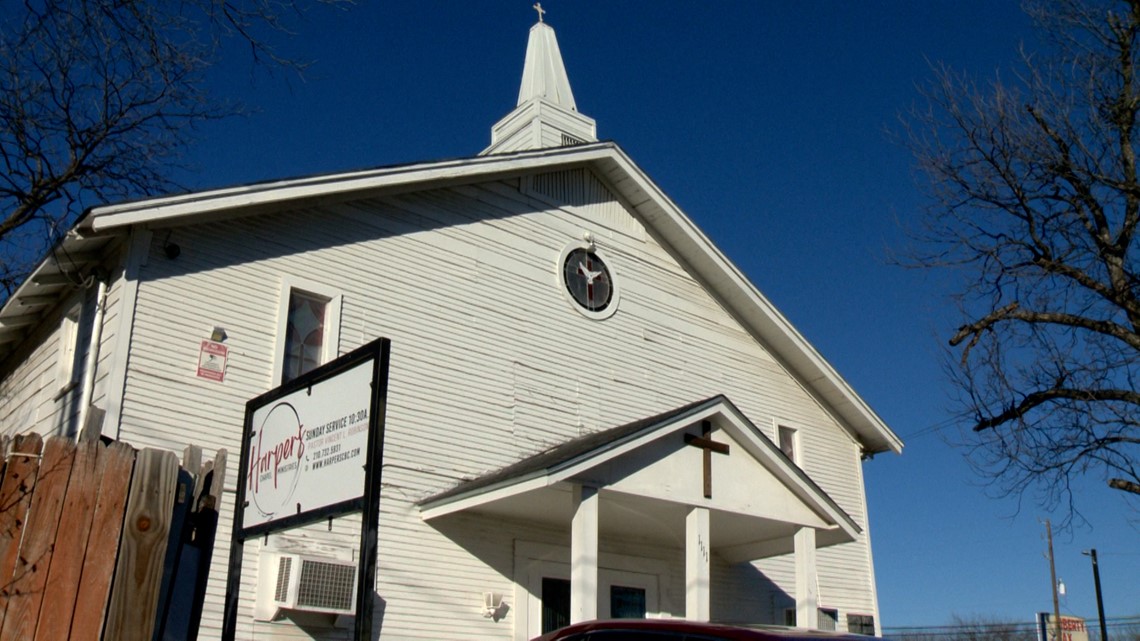 "This is the most impoverished zip code in San Antonio, 78207. We always call it the red-headed stepchild," Robinson explained. "There's so much need here, and this is what church is supposed to be about."
Once a month, Robinson teams up with the Texas Harm Reduction Alliance out of Austin. Their goal is to talk to the unsheltered in San Antonio and relay information to state leaders at the Capitol.
They're pushing for change to end the drug war, laser focused on fentanyl.
"Bexar County is the only county in the state of Texas that's legal for harm reduction for a needle exchange," said Robinson. "So we want to make more of the state of Texas aware of this. It's a need. We're losing our children. We're losing our people to the streets, to this drug."
Robinson believes if more counties jump on board, fewer people will be left on the streets.
"Bexar County has to set the standard," said Robinson.
Gonzalez and Bishop, who sleep near the Dollar Tree, say their biggest struggle is getting their foot in the door for legal and housing services.
"A lot of us addicts, we're not gonna take that initial step to get in the door," said Bishop. "For me, it's taking the initial step in the door to get housing, to get Medicaid, to get those processes started. That's our problem."
Gonzalez believes with a little help, he would feel more confident in taking their first step on a new path.
"They don't want a handout. I don't want a handout. I want someone to lift me up. Help me get my birth certificate, help lift me up," he said.
This 7-Eleven off San Pedro and Cypress is using a similar approach as the Dollar Tree. To deter solicitors, they're playing loud opera music all day and through the night. Employees tell KENS 5, the approach is working.