When you see this place, most people would never think it's in Texas. It's one of the world's top bird destinations and it's now being threatened by a border wall.
That is the message from wildlife groups fighting to preserve what is left of a rare find in the U.S.
The Santa Ana Wildlife Refuge is located 15 miles Southeast of McAllen, at the U.S. Mexico Border.
That's about a four and a half hours drive from San Antonio.
KENS 5's Sarah Forgany drove down there to speak with residents and environmentalists who fear the worst for this nature sanctuary, considered the jewel of the national wildlife refuge system.
Dr. Steven Feldstein flew to South Texas from Pennsylvania. He's a climate scientist, but bird watching is his hobby and he says few places compare to the Santa Ana Wildlife Refuge when it comes to spotting exotic birds that can only be seen here.
"For most birders it's a place they dream of coming to at least once in their lifetime if not more," Dr. Feldstein said. "This is one of the most exciting places to come to in the U.S. it's just like going to the Grand Canyon or something like that... tremendous reputation."
Tiffany Kersten, a biologist and member of the Friends of the Wildlife Corridor, says it's a special place because both plant life and wildlife are very diverse. Now she's afraid all of it is in danger.
"It's been very emotional," Kersten said.
If funding for President Trump's border wall is approved, the Santa Ana Refuge would most likely be the starting point.
Kersten says the Levee Wall would run 3 miles through the Refuge, separating the visitors center from the rest of the park.
Environmentalists and biologists like her agree a barrier would disrupt migration patterns and impede animals.
The 2,088 acres refuge is home to the endangered Ocelot. There's only 40 to 50 left in the U.S., said Kersten, and those are all in South Texas.
"For those populations and for that small of a number we start being concerned with inbreeding so if a border wall is built, and cuts off the U.S. from Mexico's population, eventually they'll become so inbred and become extinct in the U.S."
Santa Ana is also home to more than 400 different kinds of birds, the Texas tortoise and half of the butterfly species found in North America... like the Ocelots, this wildlife survives and evolves by freely migrating South to Mexico and breeding.
But, this beautiful peaceful wooded area is also a hot spot for smugglers because of its proximity to Mexico, with only the Rio Grande River separating the two.
That's why people in the Valley are no stranger to border walls and fences.
Under the Bush administration, a barrier was built in Hidalgo County, just 8.5 miles west of the refuge.
A map made by The U.S. Army Corps of Engineers shows portions of the new wall would pass through three wildlife areas.
We got the maps from Scott Nicol, co-chair of the Sierra Club's borderlands team. He says he requested the documents under the Freedom of Information Act.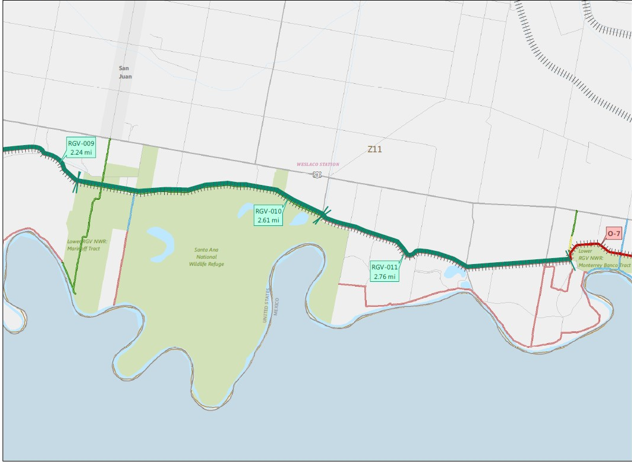 The maps show areas including the refuge, were chosen based on the challenges of building each section, such as legalities of taking over land.
In this case, Santa Ana is already federal land, so it makes it an easier choice to start, without having to fight private land owners for acquisition.
The maps show the new walls would be as high as the current levee which is about 15 feet tall, plus another 18 feet of steel bollards on top.
An additional 150-foot area would need to be cleared for an enforcement zone that includes cameras, patrol zones and lighting.
"I think there's a lot more unified opposition from all different parts of the community", said Nichol, adding people are opposed to border walls for environmental reasons, human rights reasons or landowner reasons, it's just a much bigger movement against the wall than it was 10 years ago.
Despite growing opposition, some residents say a border wall in the Rio Grande is very much needed.
Debra Rodriguez told us she's divided on the issue even though she's been coming to Santa Ana since she was a child and now she brings her kids to enjoy.
"I think we live in a place where we need protection here at the border," Rodriguez said.
But, she also wants to protect this unique subtropical forest, saying she wants to preserve nature and one of the few places that draws tourists to their city.
"We live here and I think it's important our kids are exposed to nature", Rodriguez added. "Kids that explore nature and live in nature have happy lives, are healthier."
97 percent of this habitat has already been lost to farming. Kersten insists any further destruction is crucial to the habitat here.
"They haven't told us whether or not visitors would be allowed behind it, but from what we've learned over a decade ago when the last walls were installed, it didn't happen then. It didn't allow the public."
She also said it would most likely hurt the city's economy if the park were to shut down to the public, adding ecotourism brings in more than $400 million a year to this area.
Right now, there is no telling what will happen to the Santa Ana Wildlife Refuge until Congress makes a decision on the border wall funding.
The fate of the refuge is up in the air and just the thought of it, doesn't sit well with visitors like Dr. Feldstein.
"To lose what perhaps what would be the best place for nature in the valley would be tragic."