Right out of high school, the Beaumont native was enlisted as the opening act for the legendary Etta James. Now he calls San Antonio's east side home, and music continues to run through his veins.
"Clarence 'Gatemouth' Brown is my uncle, my daddy's brother," Mays told KENS 5. "He played guitar, my daddy played guitar."
As a boy, Mays would watch in awe as his father strummed along to the greatest hits on the radio.
"Back in those days, they had them old guitars," he says. "You've got to use one string or cut a piece of wire somewhere and make a string out of it. I'm from those days."
He had to try it out himself. Without his father knowing, he picked up the guitar one day and began to play.
And once he started, he couldn't stop.
"Whatever song that was popular on the radio, I'd learn to play it. Then I formed my own band (and) we start playing nightclubs."
Tuning up his own legacy
In the late '50s, while performing around Beaumont, Mays's talent caught the ear of a promoter out of Dallas.
"He saw me play and he asked my daddy, 'Hey, can I take him to Dallas?' My daddy said, 'Yeaaaah,'" Mays recalls. "I just finished school. I must have been 18 or 19."
From there he began to tour across Texas, opening for chart-toppers like Jerry Butler, the Drifters, T-Bone Walker and Fats Domino.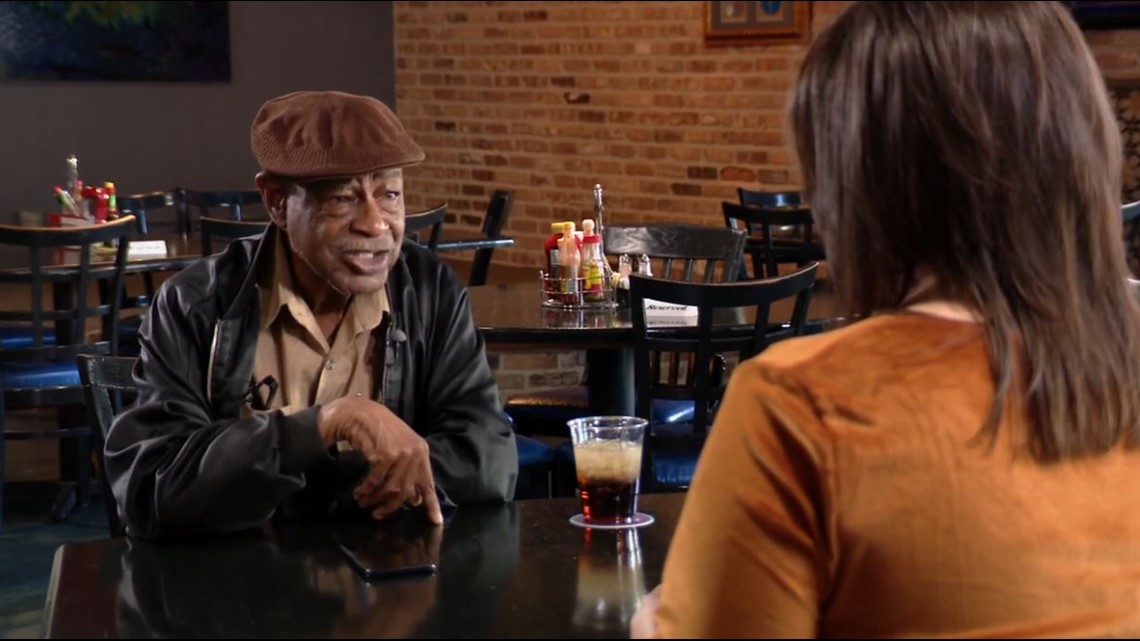 Then he devised a radical idea. He placed his Fender Stratocaster on the ground, and taught himself to play it again... this time with his toes.
"I used to play with one toe and my hand," Mays said. "I said, 'That ain't good enough. I wanna play with both toes.' I got both toes, I got a newspaper sitting down like I'm reading it."
The crowds went wild for his unconventional act, which was exactly what one headliner's team was looking for. Next thing he knew, Mays was touring nationally with Etta James.
He was her opening act for five years.
"We were tight," Mays said. "She was my best friend."
Mays played in the most historic music halls in the U.S., including Apollo Theater in Harlem. There he shared the stage with icons like James Brown and Jackie Wilson.
"I was young and crazy," Mays said of those years. "I didn't know what nervous was. All I knew was to get up there and shake it. That was all I knew!"
Arriving at the Alamo City
In the late 1960s, Mays started performing regularly at the Eastwood Country Club along St. Hedwig Road.
"What I liked about the Eastwood was it was white, Black... everybody was there," he says. "I never had no racial problems. Never have."

Over the years, the music slowed down, and the breaks between performances grew longer. Mays settled on the east side and worked in the supply department at USAA for several years before retiring.
His portrait still graces the walls of the Dignowity Hill eatery Panchos & Gringos. Below his picture is a table reserved just for him.

Even as neighborhood karaoke sessions occasionally strum up his interest, he admits he hasn't picked up the guitar since the pandemic began. Asked if he would ever perform in front of a crowd again, Mays says it's a question he's spent much time considering.
But at 84 years old, the blues legend says the music hasn't yet stopped for good.
>TRENDING ON KENS 5 YOUTUBE: