DALLAS — It's a new year, new fair, and now new boots for Big Tex! The State Fair of Texas announced the winning design for the icon's next pair of kicks.
State Fair officials said over 300 designs were submitted for their Big Tex Boot Design Contest. Competing artists ranged from ages 10 to 79 years old and they live across the country.
Judges then had to narrow down the competition to just five choices, which were then judged by the creativity, Texas pride representation, and design for Big Tex's size 96 feet.
The winning design was created by a young woman from Irving, Texas: 23-year-old Jessica Bonilla.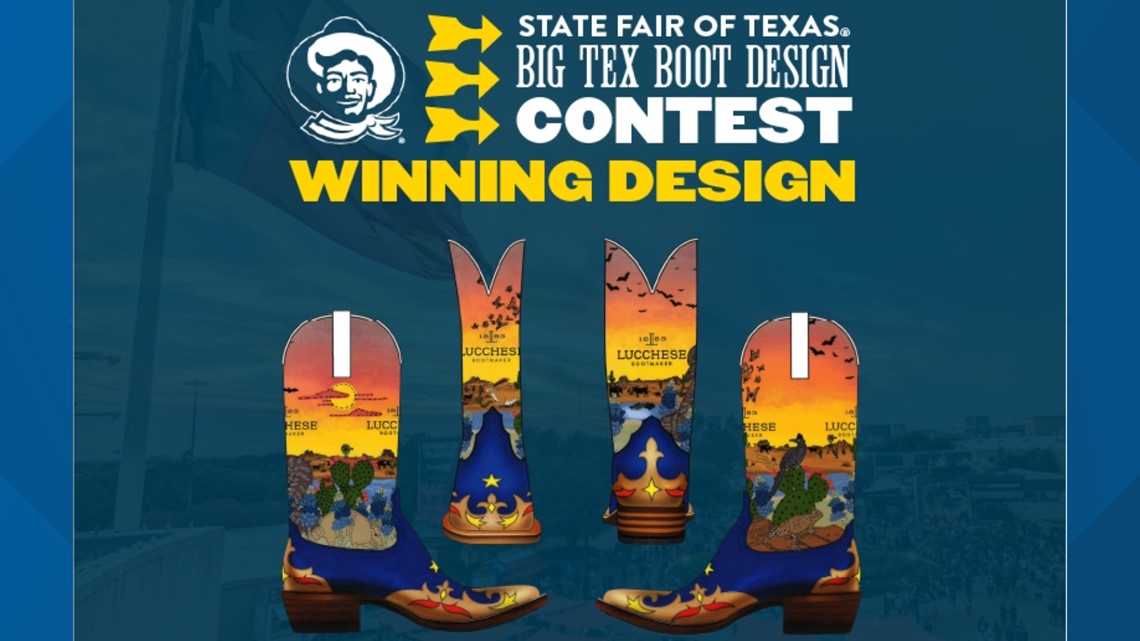 Bonilla is a North Texas native through and through. She's a licensed social worker who got her bachelor's and master's degrees from the University of North Texas and UT Arlington.
"While I work in the mental health field and substance misuse field, I also run a small business selling my art," said Bonilla. "I heard about the Big Tex Boot Design Contest, and I really wanted to challenge myself to draw in a new style that I'm not as familiar with."
Bonilla's winning design will be turned into reality by Lucchese Bootmaker and State Fair.
"Lucchese Bootmaker is honored to partner once again with the State Fair of Texas for the Big Tex Boot Design Contest," said Lucchese president Doug Kinday. "Jessica's design highlights the beautiful and vibrant Texas sunsets we all know and love, and we can't wait to see her vision brought to life by our bootmakers."