SAN ANTONIO — Five planets will be visible for San Antonians to see as March comes to an end. According to space.com, the best time to see all planets align will be Monday, March 28, however viewing this planetary parade will not be easy for San Antonians due to sky conditions and location of some planets falling close to the horizon.
Even if sky conditions are perfect and all five planets of Mercury, Jupiter, Mars, Venus, Uranus and moon with the naked eye can be viewed, congratulate yourself if all five are spotted. This is because a couple planets in particular will be tough to view that fall close to the horizon.
Here's how San Antonians can spot five planets in the sky:
1. Keep an eye on the weather - Luckily the five planets will be visible from March 25 - 30 because cloudy skies could obscure viewing conditions beginning Monday morning in San Antonio. Since rain chances will continue Friday morning San Antonians could catch a first glimpse of the planetary parade at dusk Friday evening.
Saturday San Antonio should also see clear skies providing the best and likely only chance to see the planets before clouds roll back in Sunday. Keeping Saturday evening in mind, San Antonians will want to venture out around dusk (the time between sunset and darkness) leaving just enough light to see all the planets, despite how close they fall to the horizon.
Mercury will be that first planet that could be obscured by leftover sunlight. And if you're having trouble finding it look for Jupiter as they will look like two bright objects near the horizon. Binoculars could also help spot these two planets before getting your eyes to adjust.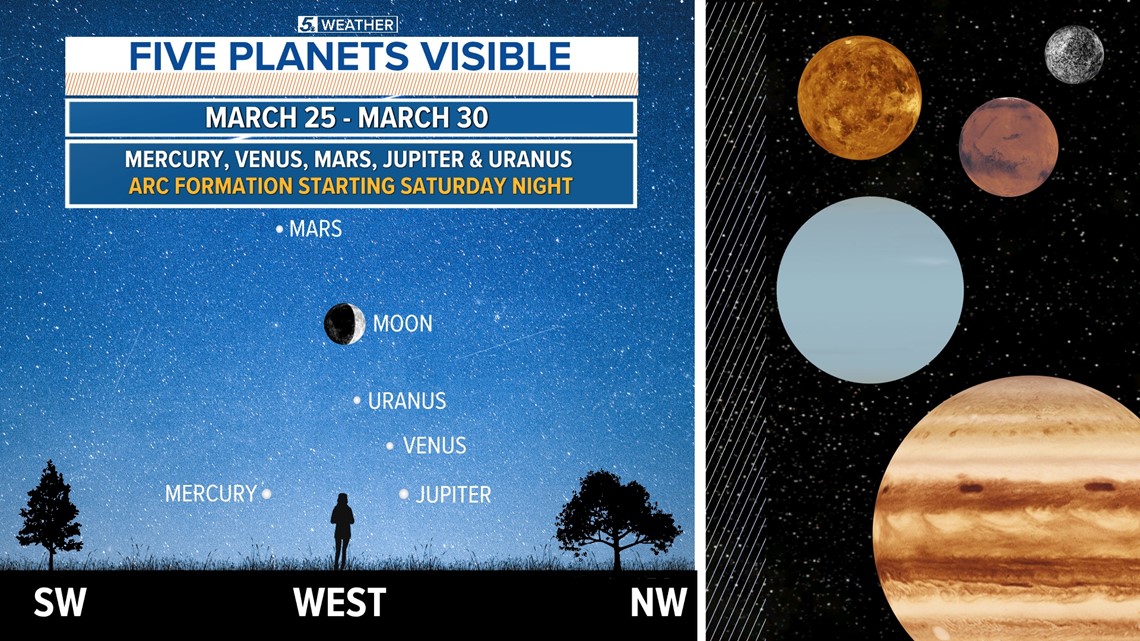 2. Planets location - Since the planets will be visible near the horizon look toward the western skies. If you can see sunset then you're in good shape.
Also keep your view clear of any buildings or trees that could obscure your view of the horizon. Of course, the further away you are from city lights the better.
Viewing time is also very short, San Antonians will have about 30 minutes after sunset to spot the five planets before night skies take over.
3. What will the planets look like? - The planets will align beginning at the horizon as Mercury, Jupiter, Venus, Uranus, moon and finally Mars. According to space.com the easiest planet to see will be Venus also called the "Evening Star". The planet Uranus will be located above Venus.
The crescent moon will also appear in line with the planets with Mars sitting above shining as a yellowish-orange star.
Then Jupiter and Mercury will be the most difficult to spot as they sit close to the horizon.
Some of the planets will still be visible at night just look toward the crescent moon as your guide.