SAN ANTONIO — Roman Patino-Hernandez was booked into the Bexar County Detention Center on April 2 for an out of county warrant. His bond was $80. In Texas, 10 percent of the bond amount is paid to get out of jail. He sat in jail six days before the $8 required to walk out of jail was paid.
"We're just making things much worse when we're putting them in jail," Bexar County Judge Nelson Wolff said.
The most recent list of misdemeanor offenders from the Bexar County Detention shows out of the facility's 3,873 inmates 164 were in for low-level crimes. A pie chart from the jail reveals the highest percentage of that number were arrested for criminal trespassing.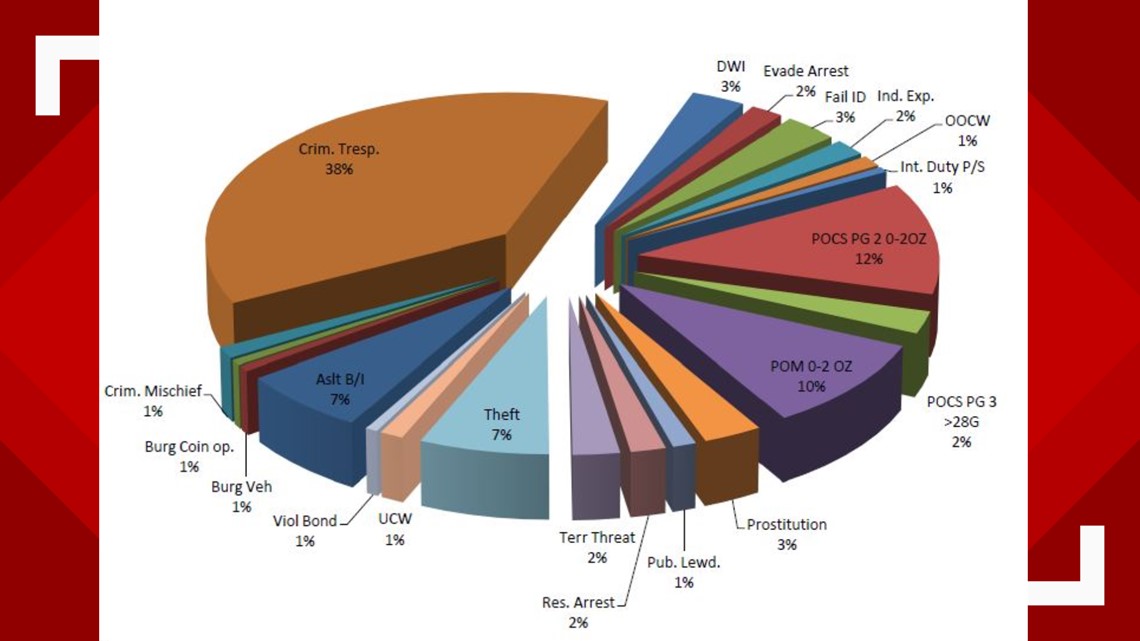 The trespassing charge ranks at 38 percent of the 21 crimes shown in the graphic. It takes 12 of the other crimes combined to top the criminal trespassing percentage.
Janice Dotson-Stephens was jailed in July on a criminal trespassing charge. Her bond was $300. No one paid the $30 to get her out of the detention center before she died in jail in December.
Jack Michael Ule died in jail on Thursday. Jailed on April 4, he was being held on a criminal trespassing charge. Officials said both were transients with mental health challenges.
"Our homeless population in the jail has doubled in the last four years," Wolff said. "They should not be in jail."
Haven for Hope CEO Kenny Wilson works with every level of homelessness. Their goal is to help the homeless transform their lives.
"Mental health is an overriding factor for anyone who is homeless," Wilson said.
Wilson deals with those who want to change. He also faces the challenge of those who prefer the street. The street level lifestyle is documented as high-risk. It leads to crime and other consequences.
"That population has greatly deferred medical needs," Wilson said. "And we have studies that show that they will die sooner than a normal person."
Haven for Hope has a jail outreach program that tries to direct offenders onto a positive path, so they won't re-offend.
Wolff wants to open a dialogue with local law enforcement and criminal court judges to rethink how Bexar County deals with low-level offenders.
Sheriff Javier Salazar estimates the annual impact for the misdemeanor inmates is $3 million on the county budget. He said the amount does not include the compensation for detention officer overtime.
"It's wrong and a terrible thing to do to citizens," Wolff said.