SAN ANTONIO — The San Antonio City Council held a meeting Thursday to provide updates on the city's response to the coronavirus.
After careful consideration, the council voted to extend bar and restaurant closures for the next 30 days.
Thursday afternoon, Bexar County Judge Nelson Wolff and Mayor Ron Nirenberg also held a press conference.
"This is a very fast-moving situation," said Mayor Nirenberg. "We want to protect those whose livelihoods have been impacted (by the coronavirus)."
They said that penalties will be put in place for those who price gouge items, ranging from medicine to necessities. There will be a $1,000 fine or 180 days in jail if violated, Judge Wolff said.
"Nobody takes pleasure in making these restrictions. This is about saving peoples's live at the end of the day," said Mayor Nirenberg.
They shared how the increase in numbers of people diagnosed with the disease is expected to increase as tests become available. The city is also encouraging people to keep surfaces clean.
A small fund is expected to be given to small businesses in an attempt to keep them going, Judge Wolff said. The decision as to who receives the money will take place this month.
During the morning city council meeting, city leaders shared how they are relying on the commitment of the public to follow the guidelines, and for the community as a whole to understand what's being asked of them, and to comply.
"We will do our best to protect and serve this community. We will get through this and it will not be easy. There are a lot of people counting on the city and failure is not an option for us," said City Manager Erik J Walsh.
Walsh says they are prioritizing the staff and resources on the public's recovery, and the services being provided to the community on a daily basis. He says they are looking at financial alternatives and strategies as more information becomes available.
Mayor Ron Nirenberg said, "I'm very grateful to be a San Antonian," describing how he wants to see Americans working together to make its people stronger at the end of the day.
City projections are as follows:
A breakdown of "passenger/patient count" at Lackland Air Force Base was also presented at the meeting. As of Thursday, there are a total of 388 passengers/patients.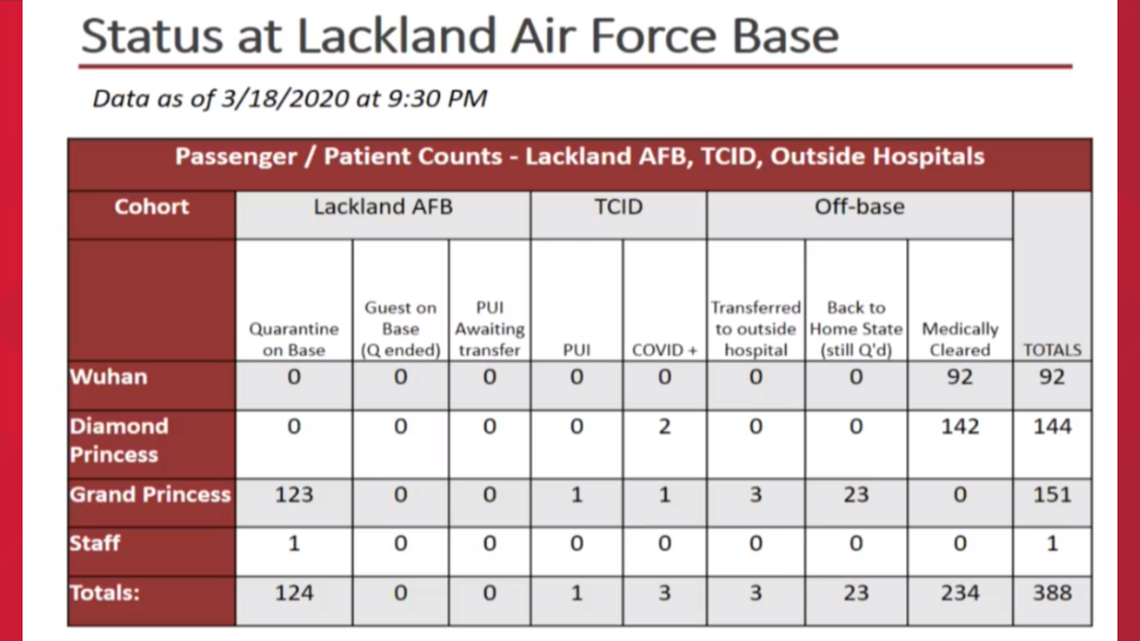 MORE CORONAVIRUS COVERAGE