If you're a WWE fan, you wouldn't have believed last week's announcement if you hadn't seen it for yourself.
Double-J Jeff Jarrett, that's J-e-double-f J-a-double-r-e-double-t, will be inducted into the WWE Hall of Fame this year.
We talked to Jeff Jarrett about his hall of fame induction, the legacy he's built outside the WWE, how the wrestling business has changed since his time with WWE, and supporting indie promotions like River City Wrestling.
This interview has been edited for clarity.
First of all, congratulations on your hall of fame induction. Unlike other hall of fames, there's no set day or time that an announcement is made about an inductee. Really, someone could receive that call at any time. We talked to Diamond Dallas Page and he said that he got the call much earlier than most, so he was surprised. Can you share with us what that call was like for you?
It was in early January, it was on a Sunday morning. I got a text that said, "Can you chat for a couple of minutes?" In the wrestling industry and the entertainment industry, weekends you never have off. So getting a text on a Sunday morning didn't really shock me. Me, my wife and kids were getting ready for church and I went up to my office and had a conversation.
I was shocked because I didn't think that on a Sunday morning I'd be getting that call in early January. But that's our industry, that's the uniqueness of it. We're obviously not true sports and we're an aggressive, physical form of entertainment. We're a hybrid and always have been and always will be. We do things bigger and louder and prouder and boisterous and everything that goes with it.
It's still very surreal to me that I was asked and I'm really looking forward to April 6.
So if you don't mind me asking, who did you talk to when you got the announcement?
That is a question that has been asked of me, and I'll just leave it as a high-ranking WWE official because I'm not real clear if I'm able to share that knowledge. So I'll leave that between me and the WWE at this time.
There were a lot of WWE fans, even fans of yours that were surprised at the announcement that you're headed to the hall of fame. Why were YOU shocked that you got that call?
It's no secret that the McMahons and the Jarretts have been promoting for generations and generations. In 2002, I set out and started our own organization and all the history that goes with that. So I haven't had a working relationship, although there's a lot that's been made out of it over the last couple of years and sensationalized.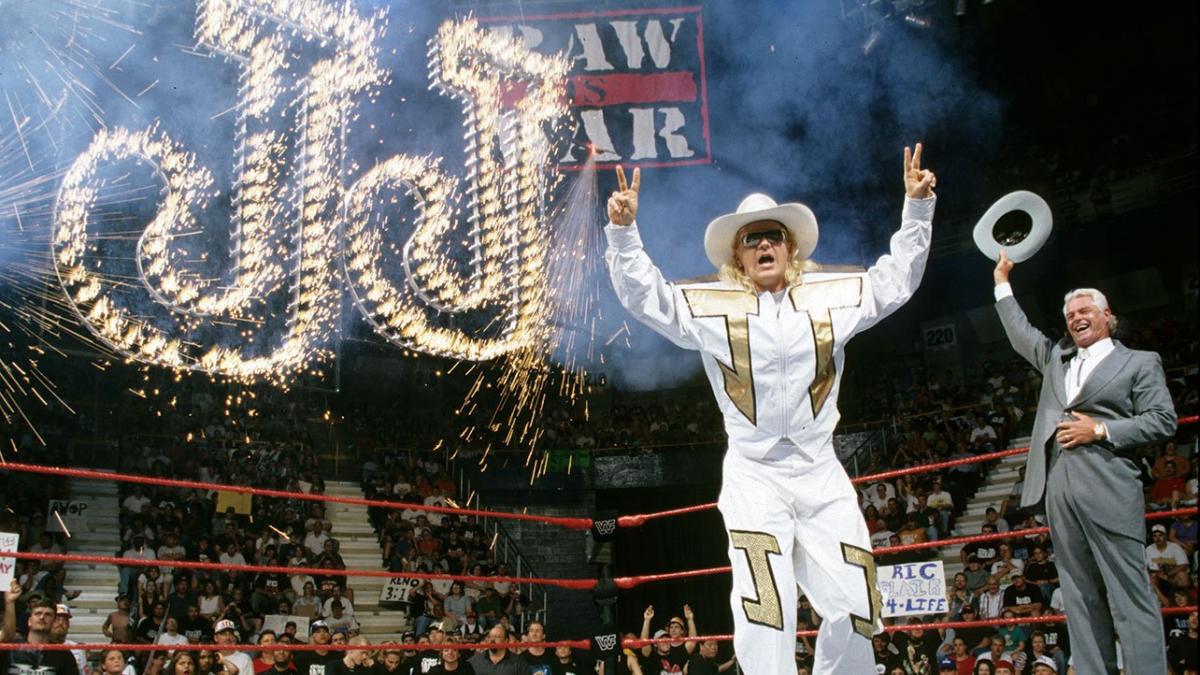 I went my separate way. And ironic as it may be, the last time I worked for the at that time the WWF was the night before they went public. They're a billion-dollar organization and they do things well. But I went on my own path with my career in the industry in and out of the ring.
Who am I to be put in the hall of fame? There's less than 200 of us. My family got into the wrestling business back in the 1940's. We've seen a lot of wrestlers come and go, a lot of wrestlers lace their boots, managers, promoters, all kinds of personalities. And for me to have the humble opportunity to go in, it's shocking. It's truly shocking.
You're a unique part of the Monday Night Wars and a big part of it. Your presence makes it impossible to tell the story of the Monday Night Wars without you. So it's not like the company tried to erase you or bury you. The most recent mention was a few years ago when Dolph Ziggler did a Double-J strut before hitting someone over the head with a guitar. Do you feel your presence at the top of the wrestling world?
Not really. I have to be completely honest. There's a mantra and I completely believe it's the way you run a promotion: You capitalize on things that you can capitalize on. You monetize things that you can monetize. You mention things that are relevant to your product.
Me working and running other organizations, there was no need for me to be a presence [on WWE]. There's been times when The Rock's mentioned me on Raw, or someone does a strut, or there's a guitar shot, or those kinds of things, it's nice to have what you're saying, some type of presence.
It's a unique business. I appreciate you saying that, but I can honestly say that I don't feel.
Technically, the last time you were in a WWE ring was that famous simulcast night when then-WWF had bought WCW on WCW's final night. What do you remember about that moment and that strange day when Vince McMahon appears on both shows and announced that he'd bought the competition and the Monday Night Wars finally came to an end?
The last three to four months of WCW, there was all kinds of sale talk. It was going in a bunch of different directions where people were questioning the future of the company.
I can remember vividly that Nitro was gonna be held in Panama City and there was a lot of promotion. I went down on a Wednesday or Thursday to participate in promotions and appearances.
It was just a different time. I was under contract with the Turner organization and I knew that I had another eight or nine months on the contract and knew that whatever happened, that contract situation had to be resolved one way or another.
It was a guaranteed contract, right?
Yes, so I knew I was going to be getting paid for however long that was.
One thing Vince McMahon does, and he does a lot of things great, but he knows how to create great television, very compelling television. But with all the things that are going into the production, it was a sad day for the production people. They knew that the WWF had their production people in place, whether it's lighting or sound or graphics, whatever the department may be, they knew that that was the end of their "wrestling run" certainly for the time being.
So that was an uncomfortable situation. It was their last night.
Wrestlers, you name it, it was a mixed gamut. Some knew they were gonna be getting paid, some didn't have a clue, some were excited about a new opportunity. It was a unique day in our industry, without question. It was so memorable just because of the fact that we're sitting her talking about it.
Who would've ever thought that there would be a simulcast with Shane on one network and Vince on the other? My last night with WWF at the time was in Cleveland. And how ironic that Raw was in Cleveland that night as well. So I've had two nights where I finished up in Cleveland with the organization.
Also, unlike a lot of other superstars, you were somehow able to pull off bouncing between WWF and WCW when the two organizations were going strong. You didn't really jump ship and were part of a coup the way that some free agents were signed at the time.
The 90's were an interesting time to be a wrestling fan and to be a wrestler. I didn't miss a Monday. I was fortunate enough in contractual situations that I went from company to company and didn't really skip a beat as far as being on television.
You once lost the Intercontinental Championship to Chyna, who's the first and probably last woman to win that title. At the time it was controversial but now it's a celebrated milestone. It's gotten more significant as both of your legacies have gone through shifts with fans and the company as well.
It was really unique in several ways. It was my last match with the WWF, and then in TNA I was involved in Chyna's last ever wrestling match. It was me and my wife Karen against Kurt Angle and Chyna.
During the Attitude Era, I hit the Fabulous Moola over the head, a 72-year-old woman over the head with a guitar. I was figure fouring different ladies. It was a very edgy time.
Obviously, it goes without saying that Degeneration X was red hot and Chyna really defined that Attitude Era from a female perspective. And Chyna was perfect. The look, the aura, everything jelled. The buildup to it, a "good housekeeping" match, it all just blended together.
It was interesting and it's something where all these years later we're still talking about it because it was unique. The IC Title was pretty hot, so Chyna winning it, it was a milestone. It was groundbreaking at the time.
In the modern wrestling world, it's almost impossible to find a true babyface (good guy) or true heel (bad guy)…
What are you talking about? I will knock your teeth out if you don't… no I'm just kidding.
Haha. Well, it's almost never happens anymore where the audience uniformly responds to one character. Toward the end of your WWE run, that was starting to change where the bad-ass heel was starting to become a crowd favorite. But if you don't mind me saying so, I really hated you when I was a kid.
Great! I love it! And as an adult you just despise me. There's a difference, right?
It hasn't changed! Right. So what makes a great heel and what makes a great promo to get the crowd to turn against you even if they might come in liking you?
It's emotion. It's truly emotion.
In our industry, the babyface can only go as high as the heel is and the heel can only go as high as the babyface is. So you've got to evoke that emotion. You've got to give them every reason in the world not to like you whatever it may be. And that's part of the magic of our industry. You've got to push the emotional buttons.
When you go to a great movie or watch a great TV show, the really really good antagonists you always remember. It's something that I relish. And I have fond memories being that antagonist.
Your first public appearance since your WWE Hall of Fame induction announcement will be right here in San Antonio with River City Wrestling. What are your plans for that night?
You know, San Antonio over the last couple of years, and specifically River City Wrestling, we've had a great partnership. We've worked hand-in-hand. And how ironic that my first appearance is with that group.
I'm super-excited. I really am.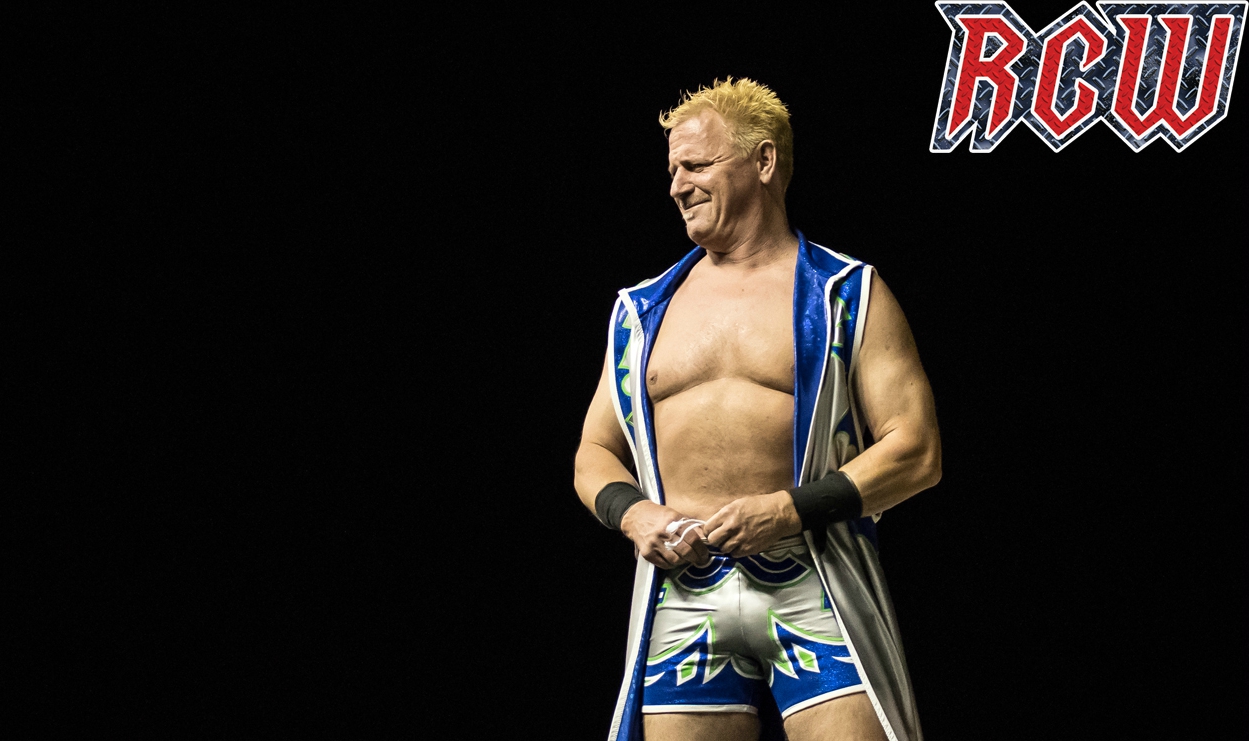 We negotiated this appearance well before the hall of fame announcement, but I'm pretty excited about how it's rolled out. I'm looking forward to seeing everybody. They put on a great night of independent wrestling, some of the best not just in the country but in the world.
And I am bringing a guitar. So that may be my first hall of fame guitar shot that night.
Your work on the independent scene has really done a lot for your legacy on a grassroots level. There might've been a time when people were surprised to hear that you're still wrestling but that's not the case anymore. Have you been surprised at how the industry has grown on the independent level? At this point, a guy doesn't even need to go to WWE or a major promotion to make a good living or make a name in the industry.
Well from 2004 to 2006, during that time during the TNA years before we were doing a full-time schedule of live events, I traveled not just across the United States but around the world in going to the independent scene. And really in the United Kingdom, independent wrestling was beginning to catch fire. Then across the United States and around the world, it went through a full revolution, a full cycle.
The days of the territories went up to the 80's, then they died out in the 90's. And in the 90's and through 2001 there was WWF and WCW. And then you went through that period of time where independent wrestling hadn't really cut its teeth.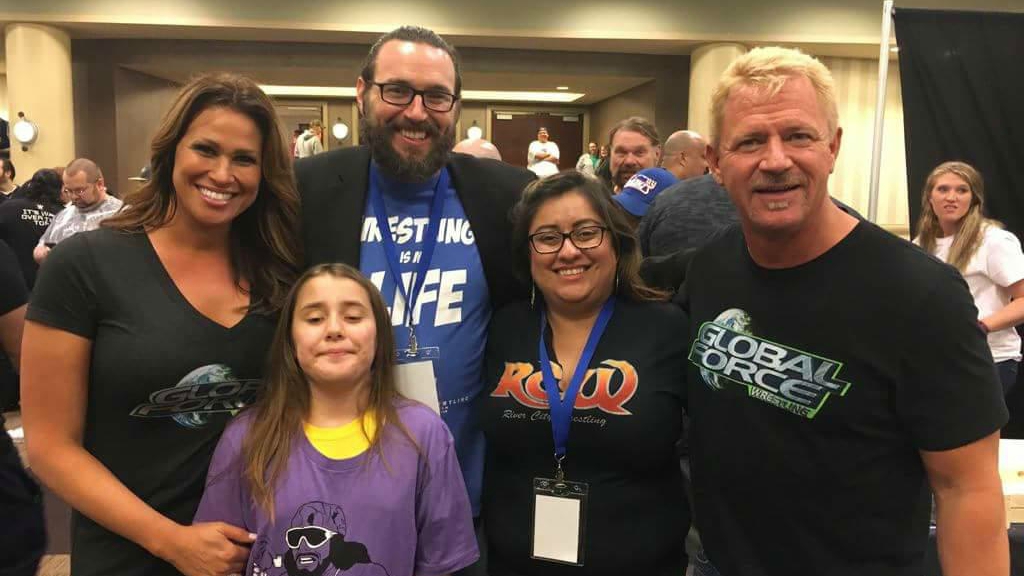 Now here we are 15 years later and these promoters, a lot of them have come and gone but the good ones are fine-tuned. The cream rises to the top and the bad ones have been weeded out.
There's a different era now. We live off our phones in social media. The world has changed, the entertainment industry has changed. The independent scene is the heartbeat of professional wrestling on so many levels.
That is where the stars of tomorrow get their start. You have to be able to get a booking at River City Wrestling first before you'll ever get to Madison Square Garden. That's just the nature of the beast. And that's why I've really got a special spot for promotions around the world I've worked with that know what they're doing.
Like I said, I'm a third-generation promoter. Promoters that go out and give guys opportunities to work and really put on a good show for the fans and keep them coming back, they're the heartbeat of wrestling.
Any special memories you have of San Antonio from previous visits whether it be with River City Wrestling or other promotions you've worked with?
I have many San Antonio memories!
Back years ago when my family partnered with the Von Erichs, we ran a show in San Antonio at a big night club and there was a young kid by the name of Will Smith who dropped by backstage. And yes, that's THE Will Smith I'm talking about with DJ Jazzy Jeff.
And early in my WWF career, we had a Survivor Series there. And I'm the infamous one who Chuck Norris got to superkick. So I remember San Antonio for the Chuck Norris kick!
I've wrestled there off and on for years. It's a great wrestling town with the Freeman Coliseum… now I'm dating myself. But it's a great wrestling town and always has been in a lot of different ways. So I've got a lot of fond memories in San Antonio of the wrestling fan base and I'm just happy to see that you've got consistent wrestling there from River City Wrestling and that people come out and support it.
And if you survived a Chuck Norris kick in Texas and you're alive to tell the tale, then you definitely deserve your hall of fame induction based on that alone.
You have no idea how true that is!
Well, Mr. Jarrett thank you so much for talking to us. It's been a privilege. I've been a fan of yours since I was a kid and we're looking forward to seeing you in San Antonio soon. Again, congratulations on your WWE Hall of Fame induction.
I appreciate it, my friend!