SAN MARCOS, Texas — After the Texas State University president urged students to stay away from a group expected to march on campus Wednesday, Texas State reported that at least four students were eventually arrested near the San Marcos Campus Quad.
The university reported the incident involved only students and no other groups.
The students were taken into the University Police Department and transported to the Hays County jail for arraignment before a judge, the university said.
On Thursday, Texas State released the names of the students and their charges to KVUE. Tyvonte Davis-Williams, 21, is charged with disorderly conduct-language; Alejandra Navarrete, 19, is charged with failure to identify and providing false information; Nazarene Freeman, 19, is charged with interference with public duties and failure to identify; and Claudia Gasponi, 23, is charged with resisting arrest, search or transportation and interference with public duties.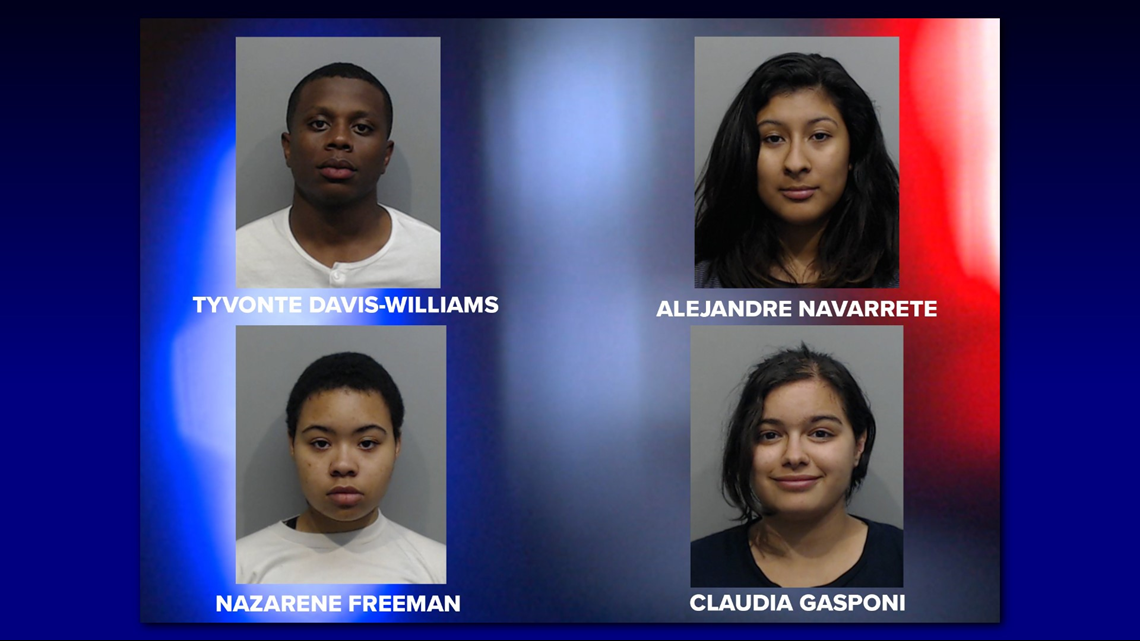 Texas State students gathered on Wednesday night outside the Hays County jail in protest. The protesters claim the students were wrongfully arrested and also claim police brutality.
However, Texas State University Police Chief Laurie Clouse reported the following:
"The incident that led to the arrests began when one student took a hat off another student's head and fled. Police officers quickly interceded and directed the student to drop the stolen property. The student refused multiple directives and was then detained with the intention of being given a ticket for theft. The student was later arrested after providing a false identity to the police. Another student ran to the officers during this incident and began to interfere. After refusing to comply with the officers' directions, this student was arrested for interference with public duties. When the students were escorted into the police department, other students followed and one additional student was arrested in the police department lobby for interference. A fourth student was arrested and charged with disorderly conduct outside the police department."
Tasers were not used to arrested the students, according to the university, but one student was restrained on the ground by several officers.
"Although the investigation is ongoing, the initial review indicates that the officers involved acted appropriately with the goal of preventing further escalation. When a theft occurred in plain view, they were right to act," said Chief Clouse. "I understand it's difficult to watch the arrests on social media, however, the officers were there to protect all of our students. We expect our students to obey the law."
Ashley Bowerman said students were arrested for speaking out against group demonstrations.
Camelia Juarez said that, based on witness reports, a girl was taken into university police custody after she allegedly took a "Make America Great Again" hat from a male student.
Ben Salinas said another student was arrested for "talking."
No injuries were reported to the University Police Department.
The initial concern that sparked the president's message initiated from posts about protests on social media.
The university president sent out a video asking students to stay away from a group that is expected to protest. According to the student government, the group called Texas Nomads is expected to protest on campus Wednesday. They were originally expected to protest on April 23.
Texas State police said there would be an "enhanced police presence" on campus to ensure the safety of the students.
Texas Nomads is described as a civic nationalist group.
In a statement, the dean of students said, "The viewpoints of these outside groups may contradict the university's shared values."
But legally, the university president says the group has a right to be there because it's a public university and the protestors have first amendment rights.
"To demonstrators who are not students, we allow them on our campus but Texas State University is no place for hate speech. And to students, I would say do not engage," said Texas State President Denise Trauth. "If you see people who are representing something contradictive to our core values, do not engage, go the other way."
Trauth went on to say students are free to disagree with these groups, but it doesn't have to be in a disagreeable and confrontational way.
Since 2016, Texas State University has been targeted by white supremacist organizations. According to the Anti-Defamation League, it's happened at least 10 times since then.
University police gave eight self-proclaimed white supremacists criminal trespass warnings in December of 2017. This is after they posted racist flyers on campus.
Students are asked to avoid this group altogether. University police are aware of this and have reportedly spoken to other law enforcement who have dealt with this before.