"I love how the whole school came out for him, the band, the cheerleaders, the mariachi. It shows me how much they care for him," said Lisa Salcido, who wasn't surprised when she found out her son, Mr. Phillip Salcido, was nominated for the EXCEL Award.
His students were surprised either. Isaac Gutierrez, a high school freshman in high school, has stayed in touch with Mr. Salcido and says that his teacher was always there for him, so this time he wanted to be there at McAuliffe Middle School when we surprised his mentor.
"He helps me be in the spotlight. He helps me to know how it feels in front of everybody, to be working for somebody, to be helping somebody." Gutierrez said.
Mr. Salcido is the student council sponsor and helps nourish rising stars like Gutierrez. He helps students who lack confidence find their voice.
"Not only is he an excellent teacher but he's an excellent son," his mom Lisa said.
Outside school, Salcido never misses a special moment with his family, during the good times and the tough times.
PHOTOS: PHILLIP SALCIDO WINS EXCEL AWARD FOR SOUTHWEST ISD
PHOTOS: Phillip Salcido wins EXCEL Award for Southwest ISD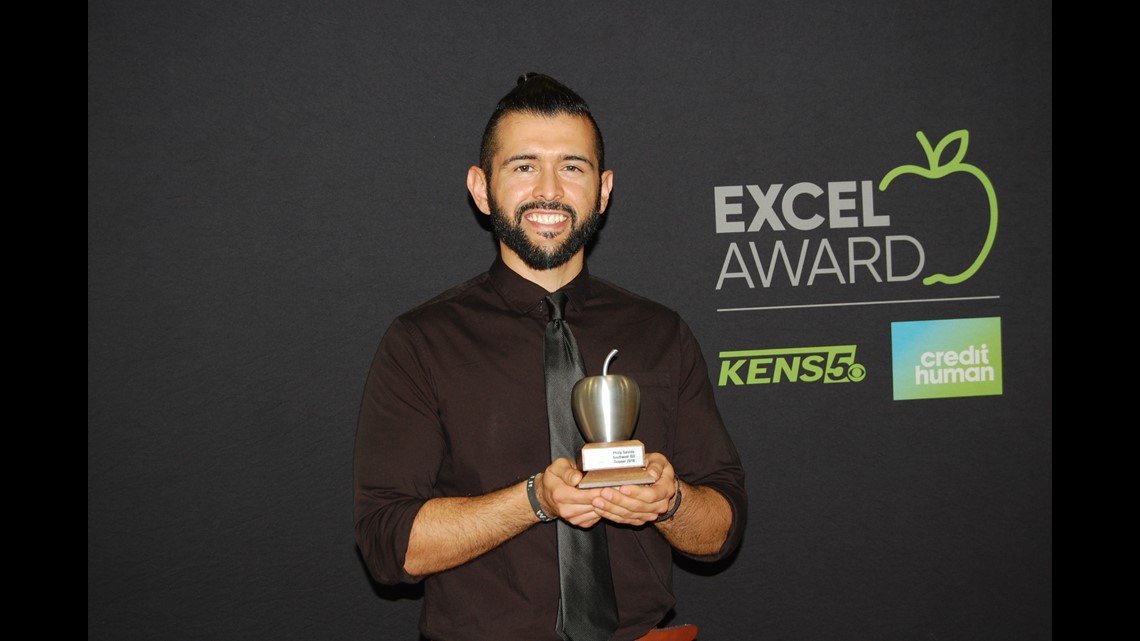 "I'm in kidney failure so I have to go to dialysis and I don't drive in San Antonio," Lisa said. "He'll rush after school to take me."
For as long as he can remember, Salcido has wanted to be a teacher, and his parents served as his inspiration.
"My mom was my first teacher," Salcido said. "I had a little school desk and a part of my playroom was set up like a classroom. And when I was old enough to play teacher, my little brother was my student. Now, being in the classroom for the rest of my career is such a gratifying feeling to me."
Salcido is the reading interventionist teacher, helping students who struggle with reading. He teaches them certain techniques to develop and train their brain to see words a certain way.
"They're seeing what it sounds like. They're hearing what it sounds like while they then write what it is and code how it sounded. When your brain is working in every which way for one particular sound, it retains the sound 10 times better," Salcido explained.
His students, like eighth-grader Jeremiah, say that it makes all the difference.
"It gives me confidence to even pass the STAAR test," Jeremiah said.
Salcido's work is not just limited to the classroom. His compassion is seen throughout the school. He's the brain behind an effort to decorate the school hallways, spreading positive messages.
"When I came here, I noticed some of the kids are not used to my good mornings, have an amazing day, your shoes look so nice today. just little compliments like that," Salcido said. "When you shower them with that kind of positivity, eventually they'll respond in a positive way."