SAN ANTONIO — Sometimes all a kid needs is a little boost of confidence and a chance to excel.
Many years ago, a little girl got that opportunity and she turned out to be a great role model at John Folks Middle School.
That girl is now Mrs. Lizeth Sampayo.
After 19 years of teaching, she was nominated by Northside ISD for the 2018 KENS 5 Credit Human EXCEL Award and a $1,000 surprise!
Growing up, Sampayo was part of a big family, one of six children. She says getting that one on one attention was sometimes a challenge.
"My dad was bilingual and my mom is from Mexico so she was an immigrant. At home it was a lot of speaking in Spanish," Sampayo said.
Learning English was difficult, Sampayo recalls. School was a constant struggle.
"When all my friends went to third grade, I was still in second grade," Sampayo added, "my parents from a humble background, they didn't question the school."
But one of her teachers saw something in Sampayo and wanted to give her a chance.
"I remember Mrs. Robertson, she stood up for me and said this little girl deserves a chance, it's not fair she's retained. They decided to give me the state exams for third grade and if I did well they would pass me to fourth, so I skipped third because of a teacher advocating for me," Sampayo said.
Since then, she's vowed to stand up for other kids.
"It affects me to this day. When someone believes in you and is willing to go bat for you. It does something to you, you feel I'm worthy." Sampayo said.
Not only did Sampayo go on to become an educator… she now teaches English Language Arts and English as a second language.
Her students say she's the reason they're enjoying school.
"She made me better," Seventh grader Ashton Lilly said.
Sampayo's dedication never stops. She's the first at her school to live stream tutoring sessions from home, for kids who can't make in-school tutoring.
NISD 2018 Credit Human Excel Award goes to Lizeth Sampayo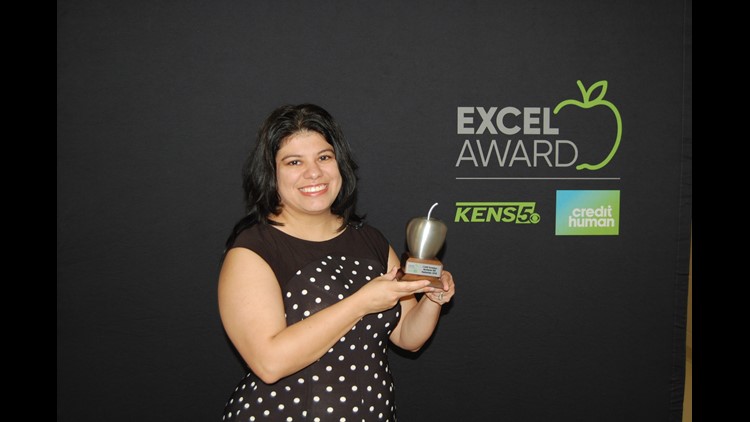 Now she's teaching other teachers to do the same.
"It broke down barriers and feeling like they knew a little bit more," Sampayo said.
Twelve-year-old Aeden Mitchell says his grades have dramatically improved. He went from struggling in class to becoming an "A" student.
Sampayo says it's what she loves most about teaching, watching students like Aeden get better at school because they're given a chance, just like she once was.
"As difficult as it is to be now a days with the costs and the salaries," Sampayo said, "It is an amazing profession and you do have the opportunity to touch the lives of so many. It is an honor to be a teacher."