SAN ANTONIO — When Kimberly Poorman was a student in High School, it took one coach to change her life.
"Coach Pasquay used to check on us, not just about school, but life, our friends and relationships," Poorman said. "One year, I was struggling a little with the balance of friendships and school and sports. She wrote me some notes that she slipped inside my school bags and I read them later. I could tell she put so much thought in it."
The words on those cards have stayed with Poorman all these years. She's kept them in her home as a reminder of the power of a good teacher.
Today she strives to be just like Coach P., "It's really impacted how I related to my students."
Poorman teaches 8th grade history at Pieper Ranch Middle School. She admits it can be challenging to get the kids interested in what's happening in the world around them.
KIMBERLY POORMAN WINS EXCEL AWARD FOR COMAL ISD
GALLERY: Kimberly Poorman wins EXCEL Award for Comal ISD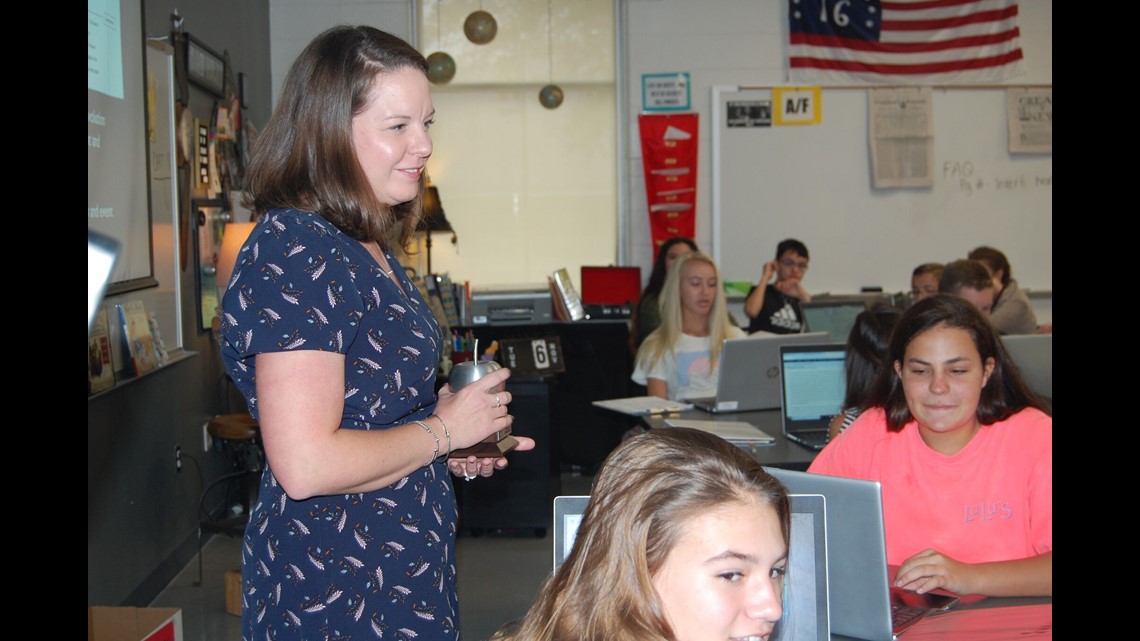 "There's days where they come and they might get bored a little, but I do care, I do try to make it my mission to make it something they enjoy and check on them and try to know them better every day," Poorman said.
Her students say Poorman makes history class much more memorable.
"We did a breakup letter based on the Declaration of Independence and it was so funny," one 8th grade student said.
Something Poorman's learned growing up as a preacher's daughter. She loves to share stories that inspire.... so now she travels the world and brings the world into her classroom with tales from Boston to England.
"You can't look around and say history is not important. We have politicians being elected on issues every day. We've got to care about and take an interest in it," Poorman said, "We also have to under the issues and I think critical thinking skills we're developing with them prepare them to look at news and sort out these issues for themselves and take a stand on the issues they care about. That's incredibly important."
Comal ISD superintendent Andrew Kim says Poorman is a true leader, "not only does she engage with our students, she has a great relationship with our students and parents and she's also a leader in our school district as well too. She does all our trainings for our teachers in social studies."
But if you ask Poorman, she can't lead without a strong support system… like her family.
"At home, I have an awesome husband, Josh and he just picks up the slack when things get crazy at the school." Poorman said.