If it's anything 29-year-old Adriana Abundis has learned about life, it's that attitude determines your success. She knows, because she's a true testament.
Abundis is now an 8th grade math teacher at Irving Middle School at the San Antonio Independent School District.
It took a lot of hard work and commitment to get here.
Even though she's only been teaching for 7 years, it wasn't hard to see why she deserved the KENS 5 Credit Human EXCEL Award.
Born and raised in Los Angeles, Abundis says she's very proud of her Mexican roots. "My first language is Spanish, I grew up with tamales and tortillas."
She's the eldest of four girls. Both her parents came to America from Mexico in hopes of a greater life but for many years, she recalls, life was a struggle.
"I was the type of kid who went to school when her mother told her not to, when her mother was too tired from work the day before and couldn't take me to school. I would walk to school for miles."
Against all odds, and English being her second language, she was determined to stay in school.
"I remember my father. I asked him for $20 to pay for the SATs and he asked me do you want to take the SATs or do you want to eat today? And I chose to eat. I found a way to pay for the SATs by getting a job at McDonald's," Abundis said. "I knew in my heart I needed to go to college, and to go to college, I had to go to school every day and to get to school every day, I had to get myself there."
Her dedication is paying off. Abundis not only went on to graduate from high school but she also graduated from Michigan State University and now she's working on two master's degrees while teaching at Irving Middle.
SAISD 2018 Credit Human Excel Award goes to Adriana Abundis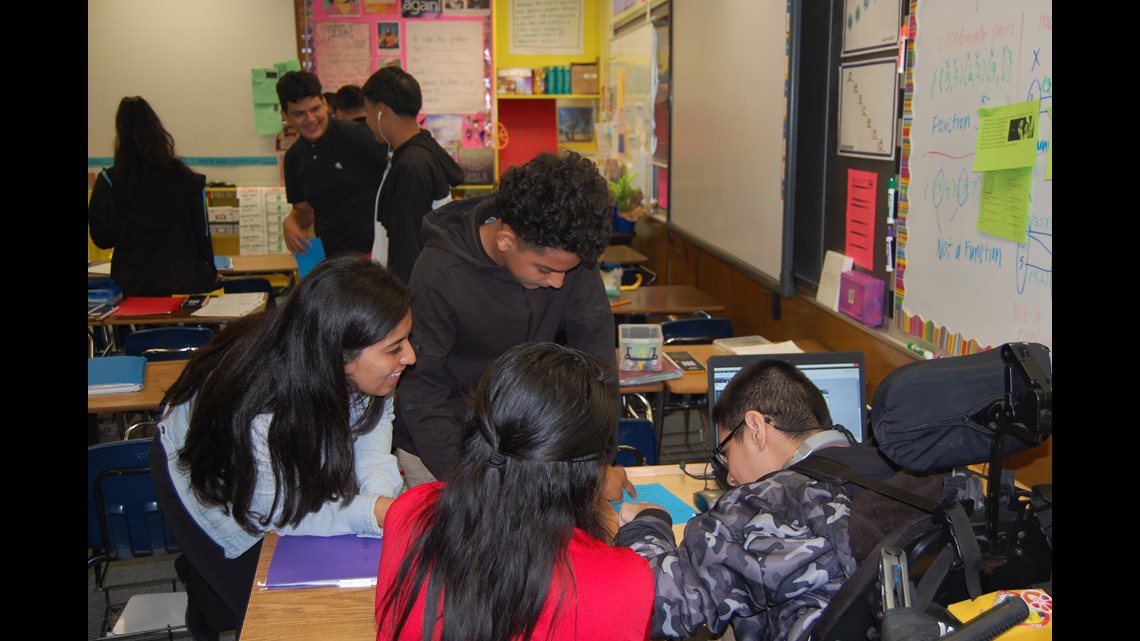 Her go-getter attitude shows in class. She refuses to let any student walk away not feeling confident.
"This class was able to work on slope and what we did was calculated the exchange rate between pesos and U.S. dollars because a lot of our students are transnational. They're hopping borders, meeting family and exchanging dollars. That's sacred. That's valuable," she said.
And just as valuable are her dual language skills in class. Some of her students are new to the country and still learning English.
Abundis says she's not afraid to speak Spanish in class. She wants to make sure every student has the same opportunity despite barriers.
"If our students can't even read the task, they're not going to be successful," she said. "Many times I have to translate for my students or discuss content or put visuals. And I know that's not always done, just like my mother who wasn't given that chance because of her language. I know these kids deserve that."