SAN ANTONIO — The San Antonio Police Department has released bodycam footage and a statement after officers shot and seriously injured a man at a west-side motel earlier this month.
Police say 44-year-old Jose Iruegas opened the door of his room and pointed a gun at officers, who opened fire. The weapon was later determined to be a BB gun, according to SAPD officials.
At about 8:30 p.m. on Jan. 4, a man called 911 to report a person who appeared to be intoxicated and brandishing a gun near the corner strip located along the 1400 block of Culebra Road.
"I don't know if this guy's drunk or what but he's carrying a pistol and showing it off and saying, 'Who's next? Who's next?'" the caller said.
That witness added that the man had gone back to a motel room at the Luxury Inn.
The video released by SAPD then shows officers arriving at the scene. One approached the second-floor room, knocking and identifying himself as police before walking down the balcony away from the room. The other officer remained in the parking lot on the first floor.
Body camera footage shows a man opening the door with what appears to be a pistol in his hand. Officers are heard ordering him to drop it before quickly opening fire.
A barrage of about 15 gunshots can be heard in the video.
Surveillance footage from the motel shows the man pointing his weapon at the officer who was upstairs before that officer shot at him. Only a few seconds elapsed between the door opening and the gunshots.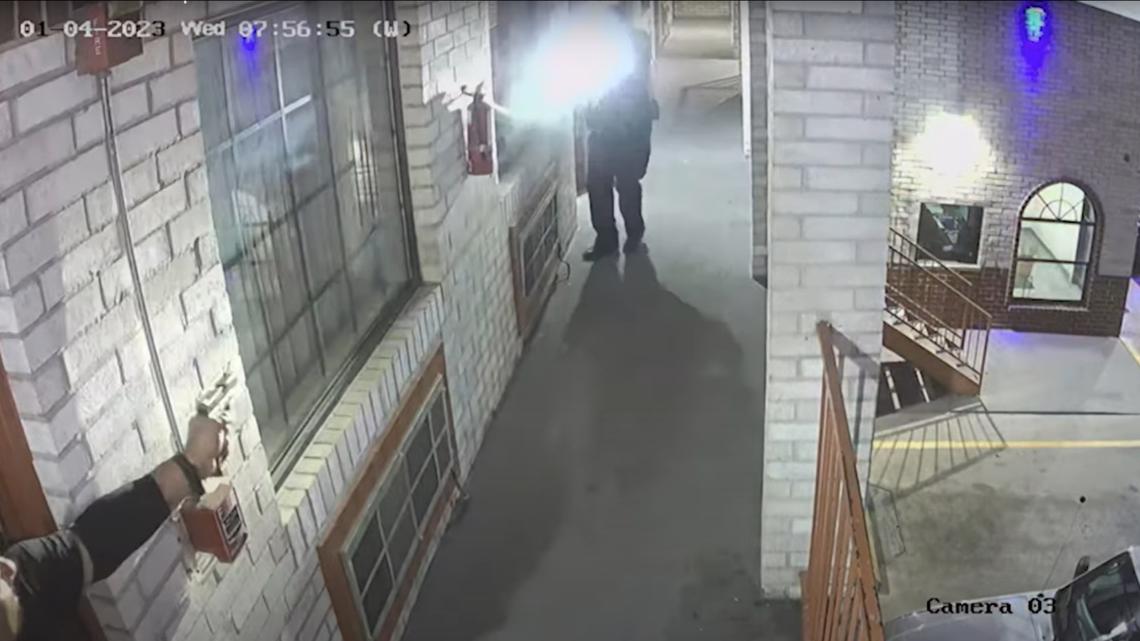 Police said Iruegas was hit multiple times and remains hospitalized in critical condition as of Tuesday afternoon. He has been charged with terroristic threat against a peace officer.
The district attorney's office is reviewing the incident, per procedure.
>TRENDING ON KENS 5 YOUTUBE: