Inside Santa Muerte's growing following, and the disagreement over what she represents
KENS 5 dives into the history of the Santa Muerte, and uncovers a complex figure.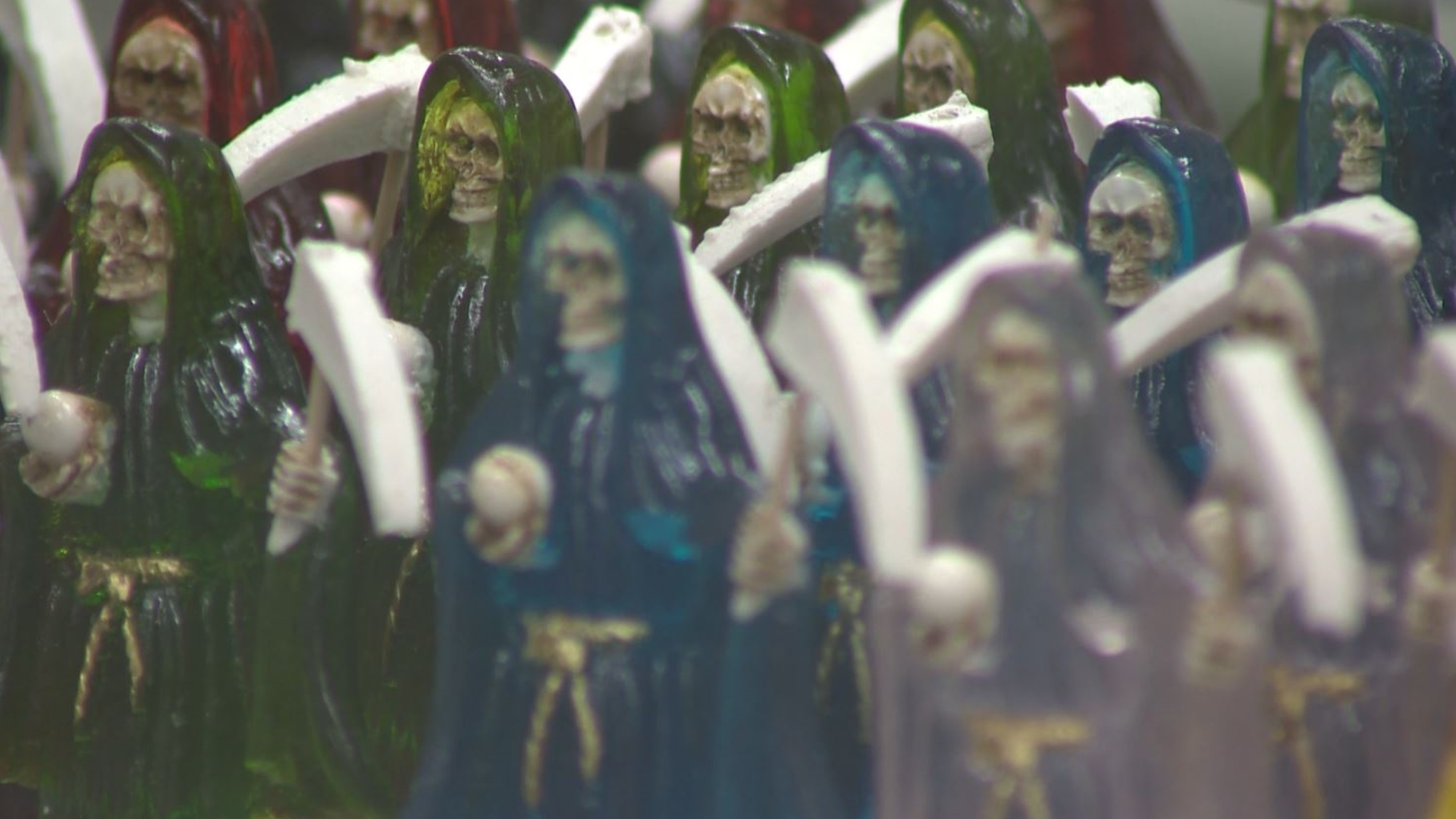 The Story
:
"Who is Santa Muerte?"
The bust occurred at three spots, including the stash house on the county's far southwest side. Sheriff Javier Salazar said the house was used to gut stolen cars.
He also revealed deputies found a Santa Muerte altar inside which led them to suspect drug-smuggling was at play.
The folk saint has a bad rap among law enforcement, and is rebuked by the Catholic Church. However, KENS 5 discovered the female grim reaper lookalike is growing in popularity among everyday people in south Texas.
We talked to some of them, and uncovered a figure with a complex reputation.
The Believer
:
"She came to me in a dream."
Robert "Bobby" Villarreal began praying to the Santa Muerte 35 years ago, after she first appeared in a dream of his.
Villarreal said she encouraged him to stay positive, telling him everything was going to be alright. Raised in the Catholic faith, Villarreal had fallen on hard times and was in desperate need of divine intervention.
The dream was the rescue he says he was due for.
"She's like my mom. She's been there for me through the hard times," Villarreal said. "She's been there for me when I really needed her most, like a mom picking you up when everybody sees that you're nothing."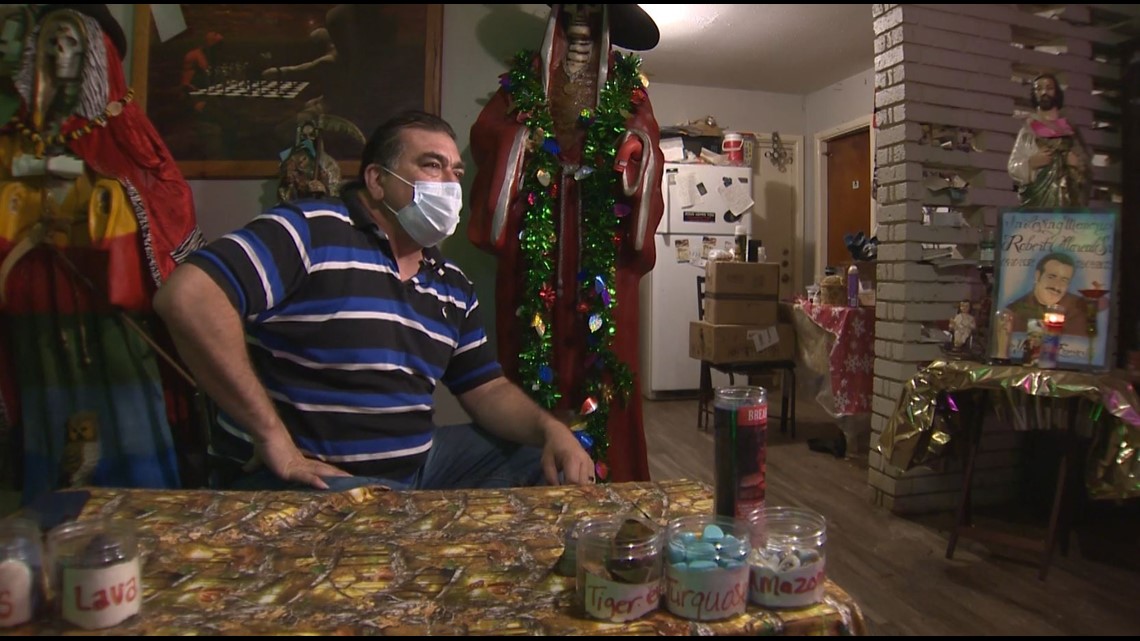 Villarreal said his journey began when the Santa Muerte was more of a secret society. Now the 51-year-old freely shares his faith as a self-described prophet and runs a tarot card business in San Antonio.
However, his belief isn't exclusive to the Santa Muerte.
"I'm Catholic-Christian. I'm Santa Muerte. I'm diversial. I can pray to any God. I pray to all of these things because I use all of their powers.
"I pray to the Santa Muerte, St. Jude, (and) my Virgin Mary. I have more (saints) that I pray to over here," he said, pointing toward a shelf in his living room.
Villarreal said he has more than a thousand Santa Muerte statues between his home and storage unit. He's collected many over the years, and has even received some from his clients during appointments.
"I started using her for the good for people that were sick. We also have people who come in here and want to pray for their mom, pray for their sons, relationships," he said.
It hurts him to hear when people rebuke the Santa Muerte or use her for criminal deeds. He's determined to show the world her other side.
"I'm not doing nothing bad here. I'm doing God's work. If God thinks I'm doing wrong, well, let him judge me when I'm standing in front of him. Not that (Catholic) priest."
The Botanica
:
"It is a very popular saint."
Yuly Garcia is a manager at Papa Jim's Botanica and has worked at the south-side shop for 16 years.
The religious goods store sells a little bit of everything, including items depicting the Santa Muerte. Statues vary in size, color and can run anywhere from $2 to $400, depending on how elaborate the figure appears.
Garcia said the red-colored Santa Muerte is their biggest seller.
"She started out being the saint for love and just to help the marriage. She brings love into a relationship, to bring back a lost lover and so that's what was the main purpose of her was when it started or what she was known for," said Garcia.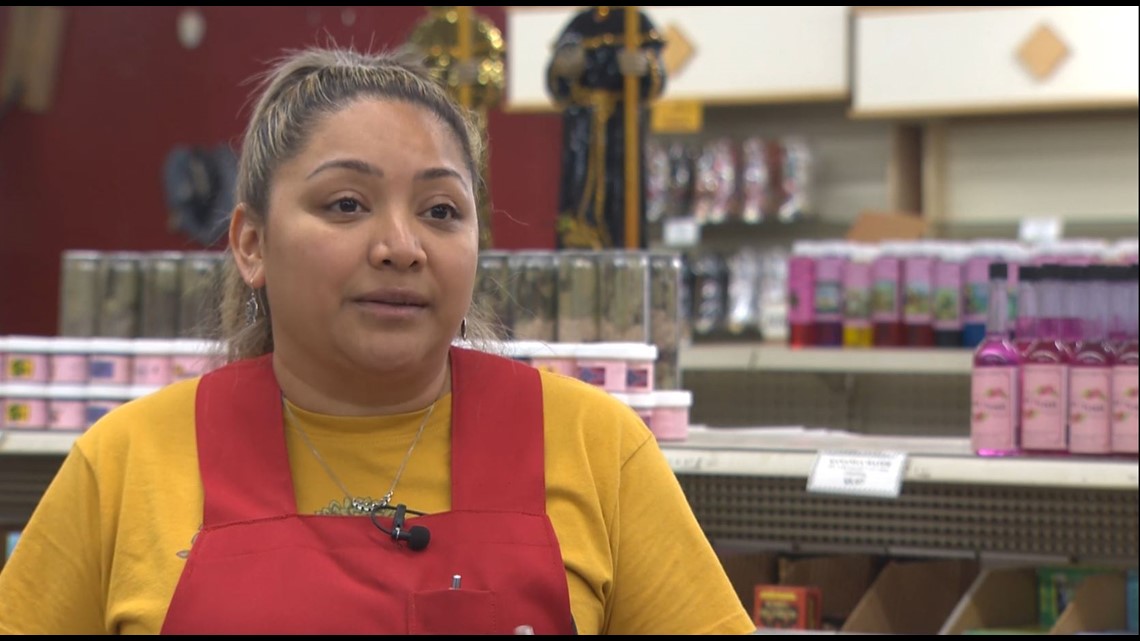 She says the shop's customer base is expanding beyond older Hispanics. Most recently, she has noticed other races and age groups come in to buy the Santa Muerte. If they do ask to buy a statue of her, Garcia said staff is instructed to explain what the folk saint is about.
"If it's for love, if it's for money, if it's protection or whatever the case might be, the answer is always the same. We tell people to read up on her because I believe the reason people would think that she's bad is with any other saint or when you're asking a petition from God, if it's granted and you promise something and you didn't keep your promise, it's kind of like nothing happens," Garcia said. "With her, when you don't keep your promise, it's like she is going to come and take what she gave you. So I think that's where the conflict starts, if she is a bad saint. But technically she is fair."
She encourages customers to keep an open mind, but warns them to do their research and decide from there.
The Catholic Church
:
"This is not a saint."
The Catholic Church, meanwhile, rebukes the Santa Muerte.
The Archdiocese of San Antonio, led by Gustavo García-Siller, is firm on its stance, and has been even before the Catholic Church publicly condemned the figure in 2013.
The Catholic faith believes Santa Muerte is wrong because it worships death, the enemy of Christ who raised from the dead. Many Catholic and Protestant pastors believe it to be a satanic practice.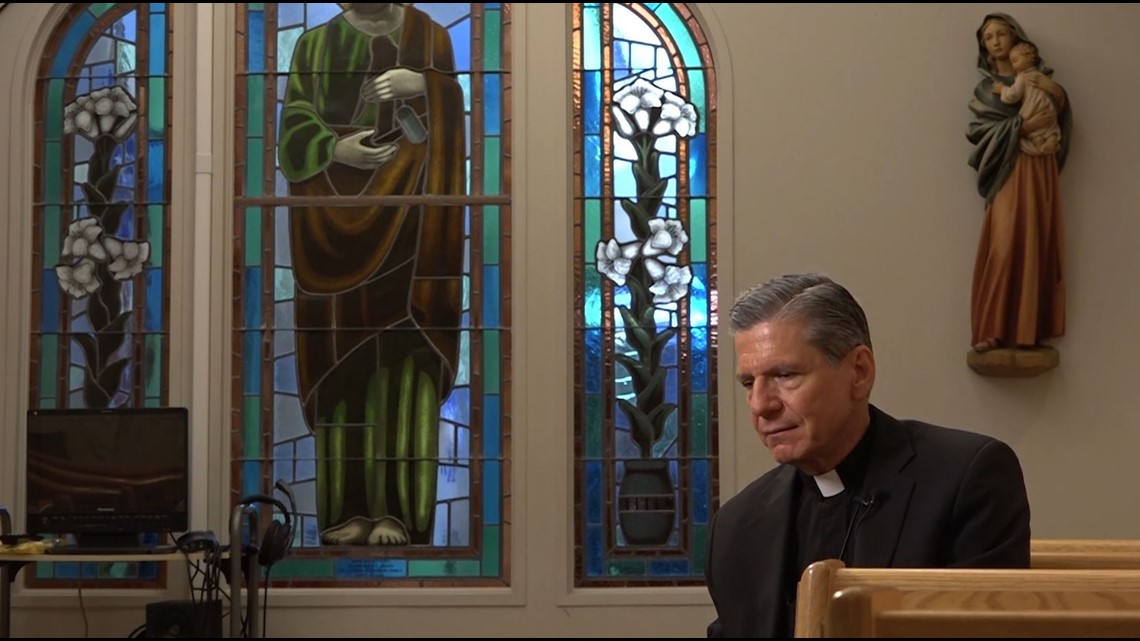 The archbishop said Santa Muerte will also never been a canonized saint. Canonization is the declaration of a deceased person as an officially recognized saint. Santa Muerte was never a living human.
"Santa Muerte is no santa at all. It's not real. It's a skeleton. A skeleton can do nothing for us," said García-Siller.
The archbishop acknowledged the phenomenon is growing in other places of the world, but said he hasn't been asked much about Santa Muerte by his parishioners. He added no exorcisms have been performed on anyone needing expulsion from it.
The Crime Fighter
:
"It's a pretty common thing."
Sheriff Javier Salazar said he's encountered Santa Muerte a couple dozen times during his tenure with the Bexar County Sheriff's Office. When he was with the San Antonio Police Department, the encounters numbered in the hundreds.
"It's a pretty common thing. I mean, maybe it's our close proximity to the border. Maybe it's the fact we have such an issue with drugs and organized crimes here. They go hand in hand," Salazar said.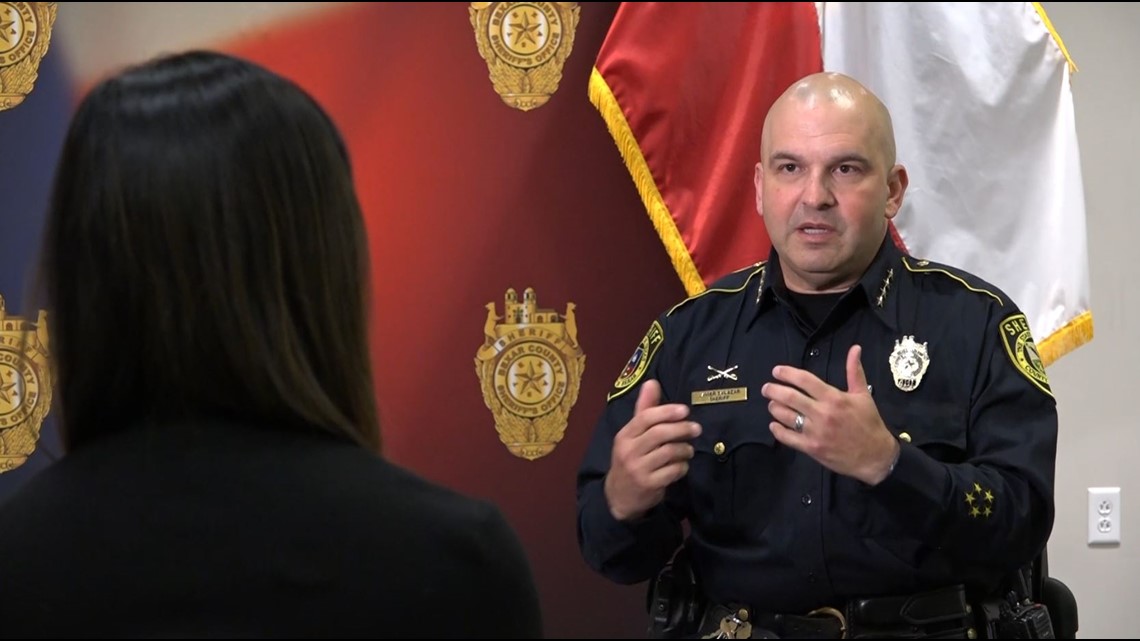 In February, a BCSO investigation revealed a Santa Muerte altar at a stash house tied to a suspected human smuggling operation. On scene, Salazar told reporters the altar led deputies to believe the scene could be a drug-smuggling operation too. The case remains open.
"It's an ongoing investigation so I can't comment too much on it, but certainly the presence of that altar did raise some eyebrows," he said.
The sheriff said criminals worship the Santa Muerte believe it will give them the upper hand over law enforcement.
"If they feel praying to this – what they perceive to be a deity or a patron saint – gives them more of a chance of outrunning law enforcement or not being detected, they are going to take it. They don't want to be caught, but our job is to catch them. It's just a matter of who did their job better that day and more effectively."
He knows not everyone in possession is outrunning the law. There is training for deputies to recognize, respond and investigate each case.
"It is something that we show our patrol cadets. We basically give the 60-foot level on what to look for and what it looks like. The more specialized you get into it there are entire law enforcement classes that you can send somebody to teach them about the world of smuggling of drugs, weapons, stolen cars and human cargo," he said. "Then they'll see the common indicators that you may see within that world."
The sheriff added it's been unfortunate to see Santa Muerte reach its way into the mainstream.
The Expert
:
"This is the fastest-growing new religious movement."
Dr. Andrew Chesnut, a professor of religious studies and Bishop Walter Sullivan Chair of Catholic Studies at Virginia Commonwealth University, is considered to be one of the nation's leading experts on Santa Muerte.
Chesnut said Santa Muerte is the fastest-growing new religious movement.
"One of the main reasons her devotion has grown so fast in the past 20 years is because she has developed a reputation for being the speediest and the most efficient, most efficacious miracle worker on the Mexican religious landscape, and increasingly also here in the United States."
He estimates there are 12 million devotees worldwide. In America, he said, the population is about 3 million, with its biggest followings in California and Texas.
"If we are talking specifically about the United States, it's a very diverse demographic: There are whites, African Americans, there's Mexican Americans and there's Puerto Ricans," said Chesnut.
As far as the Catholic Church goes, he said Santa Muerte is a matter of competition for followers.
"The Catholic Church in Mexico was already in a state of panic over very evangelical growth there, and now they have to contend with what they see as this heretical death saint. It's just more religious competition for them as they've started to lose millions of numbers in the past 20 years or so."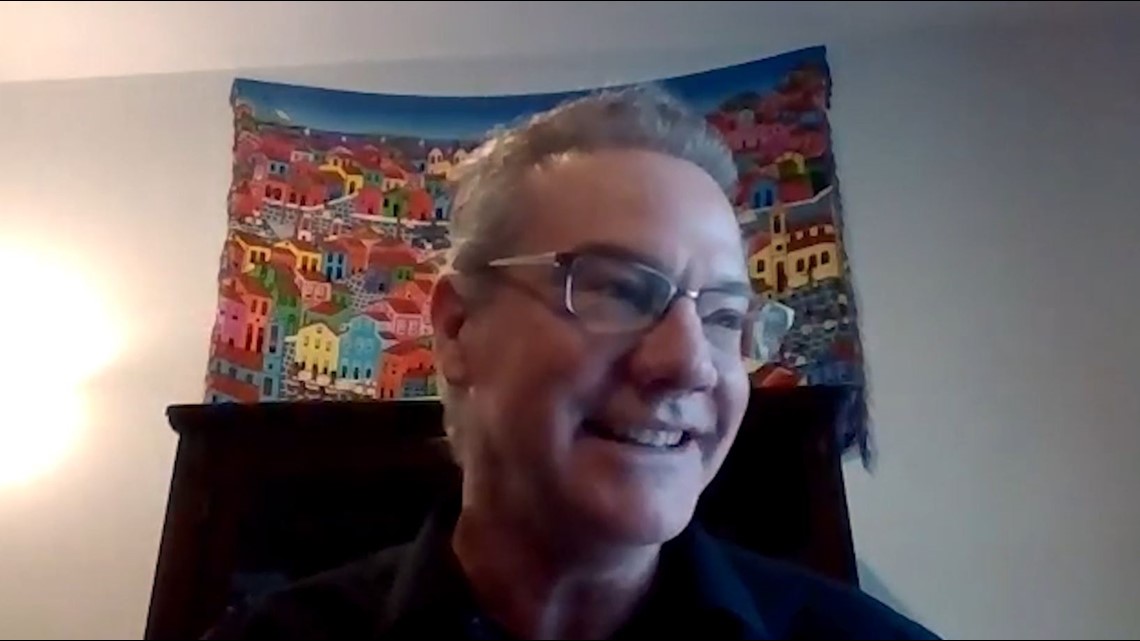 Another reason for her growing devotion harkens to her ability to perform in any situation.
"Folk saints are not immoral; they are amoral. You can ask them pretty much for anything you want to," Chesnut said. "If you are a Mexican cartel and you want your shipment to make it safely to San Antonio, you can. You can legitimately ask Santa Muerte to bless your shipment. Maybe she will, maybe she won't, but you can do that because she is not a Catholic saint."
For those reasons and others, he predicts the rapid growth of believers will continue into the future.