SAN ANTONIO — Just down the highway from where federal and state officials were debating the use of border buoys installed in the Rio Grande last month, a San Antonio playhouse is preparing to share its own perspective about migrants, the journeys they make and the dangers they face along the way.
But as its name implies, Teatro Audaz's production of "Somewhere Over the Border" strips itself of any strictly political context, instead taking on a fantastical lens in the vein of a Hollywood classic.
"I think it comes down to the root of what 'The Wizard of Oz' is, and it's finding your heart," said Abe Ramirez, managing director at Teatro Audaz and choreographer of its latest show. "Finding where your home is at, and what home means to people."
That message resonates with the core staff at this theater group, which has continued to plan, rehearse and perform together for two years, according to Executive Artistic Director Laura Garza.
"Our familia, we like to call it: our Audaz familia," she said. "The Latinx artist is important to us. Be it through their design, directing, performance, playwriting—all of that is so important to us. I think that's what keeps them coming back."
Now, seven years into its existence, Teatro Audaz – whose name translates to "bold theater" – is an established and award-winning San Antonio arts group focusing on telling Latinx stories by Latinx artists. It's been able to literally root itself in the community, through a new residency at San Antonio College, and it's exploring how it can put on more "world-class, innovative, creative productions."
Case in point: "Somewhere Over the Border" marks the first full-blown musical for Garza, Martinez and company. Written by playwright Brian Quijada, whose own mother journeyed to the U.S. from El Salvador, it follows the character of Reina (played in Teatro's production by Danell Gonzales) as she travels through Mexico to the border, a journey that "embraces the factual and fantastical" in which Reina "acquires friends, faces down dangers, and holds tight to the memory of the little boy she left behind."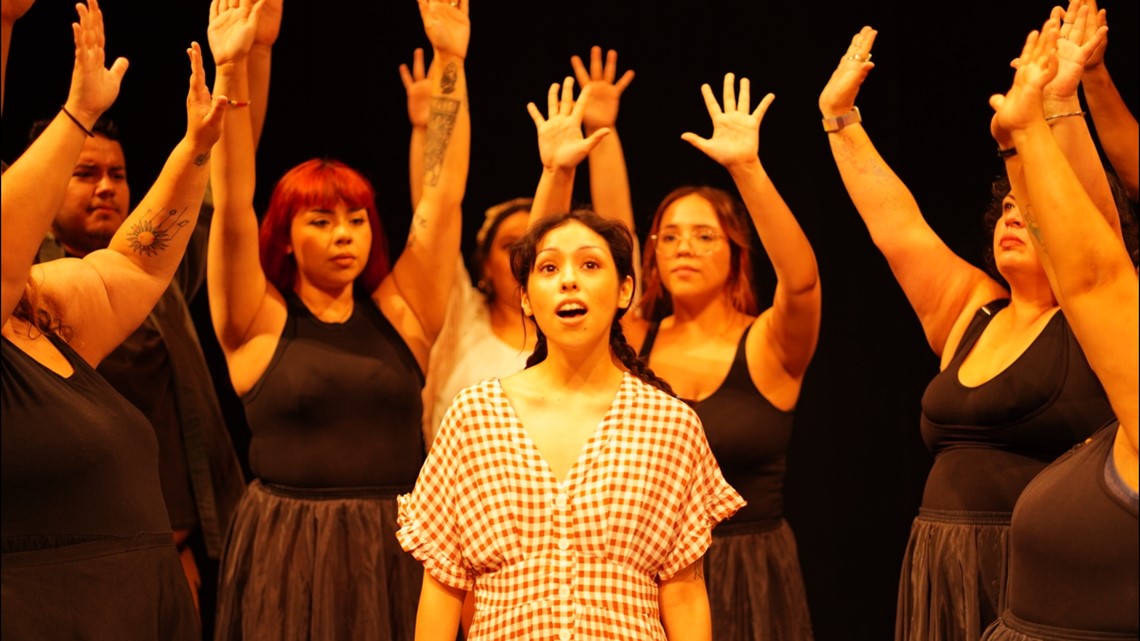 While the original show's cast incorporates just six characters, Teatro's production added an ensemble as a way to include as much local talent as possible. Naturally, rehearsals for "Somewhere Over the Border" have become not just a place for the cast to practice lines and build chemistry, but also to finesse the "big, giant numbers" that Ramirez says audiences can expect.
"It was a challenge that Teatro was willing to take," he says. "And because of the team that we have, we're able to do it. They've been working their tails off learning all these dances and beautiful music. It's all coming from the heart of telling this story."
'Open hearts, open minds'
Teatro Audaz's production of "Somewhere Over the Border," the organization's third of the ongoing season, will also mark the show's South Texas premiere. There's relevance in Teatro's geographical proximity to the border – for all intents and purposes the show's equivalent of Kansas – but Garza says her team isn't spending much rehearsal time talking about the timeliness of their show's Saturday premiere.
After all, she says, in this part of the country, what's happening at the border is always relevant.
"They're (Teatro Audaz's shows) are always in line with what's going on in the world," said Garza, who decided to direct the show herself because of how much the story about "a mother's love and what she will do for her son" resonated with her. "I'm happy that people will hopefully have more discussion about it after coming to see the show, and maybe open some eyes. That's all I want... open hearts, open minds."
That goal is woven into the tone of the show itself, which Garza describes as light, hopeful and colorful, even with the eventual "ups and downs" of Reina's story. In a time when news headlines emphasize statistics and Hollywood continues working to overcome years of onscreen stereotypes, that's as radical a decision as anything else the theater could have done.
But for the cast and crew of "Somewhere Over the Border," it also felt natural.
"I want the audience to come in with that hopeful tendency, right from the beginning," Garza said. "Because that is every Dreamer's hope: They hope for the ideal, to cross the border and reach their dreams.
"Somewhere Over the Border" premieres Saturday at San Antonio College's McAllister Fine Arts Center (1300 San Pedro Ave.) and runs through Sept. 17. General admission tickets cost $25, and can be purchased here. Two pay-what-you-wish nights are also scheduled for Sept. 8 and 15, as well as an ASL performance on Sept. 8.
>TRENDING ON KENS 5 YOUTUBE: