SAN ANTONIO — A community effort is working to preserve San Antonio's cultural heritage.
The initiative, that began in 2021, is protecting historic cemeteries on the east side. KENS 5 learned about the Cemetery Steward Program after receiving a call from a concerned citizen.
Missy Rullo, who has toured the cemeteries since she was young, noticed many grave sites in need of repairs. Although she doesn't have any loved ones buried there, she knows the importance of caring for these historic landmarks.
"It's kind of like an outdoor museum in and of itself, beautiful artwork on the headstones," said Rullo, a native San Antonian. "Unfortunately with a lot of these, some of these families may not be here anymore."
"They were founded because the city knew that they needed a new burial place as the city was growing and expanding," said Rachel Rettaliata, Senior Historic Preservation Specialist at San Antonio's Office of Historic Preservation. "A lot of people often forget that these spaces exist."
The Parks and Recreation Department manages 50 acres of the complex, including City Cemetery 1 through 6 -- which makes up about half of all the historic east side cemeteries. The other cemeteries in the complex are privately owned and six are considered abandoned.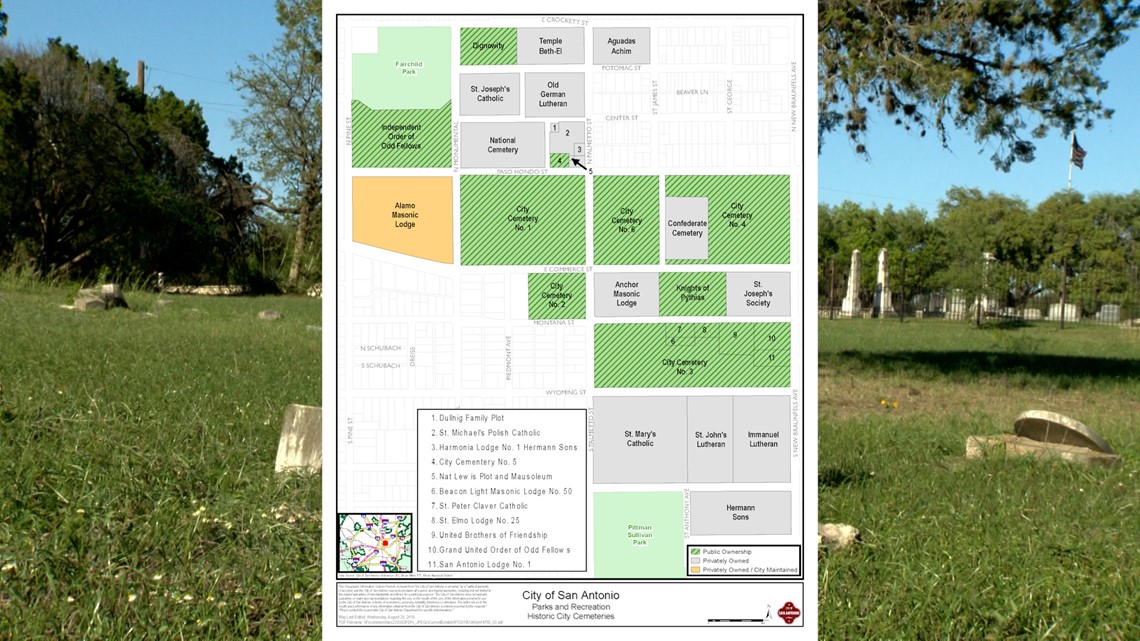 As a manager of the properties, the city oversees the upkeep that includes mowing, litter pickup, graffiti removal, and tree and brush cleanup. Rettaliata says maintenance has been a long-time issue for these properties.
"Even when they were formally founded in 1853, just as soon after as 1880, there's already record in city council of discussions happening about how can we maintain these cemeteries because they're already in disrepair?" she said.
While the city is responsible for maintaining nearly half of the complex, general maintenance for the privately-owned areas falls under the responsibility of those families and organizations. For example, the Alamo Masonic Lodge takes care of the Alamo Masonic Cemetery.
"There is a woman who is literally buried in her nightgown and in her car in this cemetery," said Rullo, talking about the famous socialite Sandra West, who was buried in her baby blue Ferrari in 1977. "Clara Driscoll is right over there. It's incredible San Antonio history that's here and that deserves to be preserved."
As Rullo walked through the properties, she thought, as sacred ground, these cemeteries would be treated that way.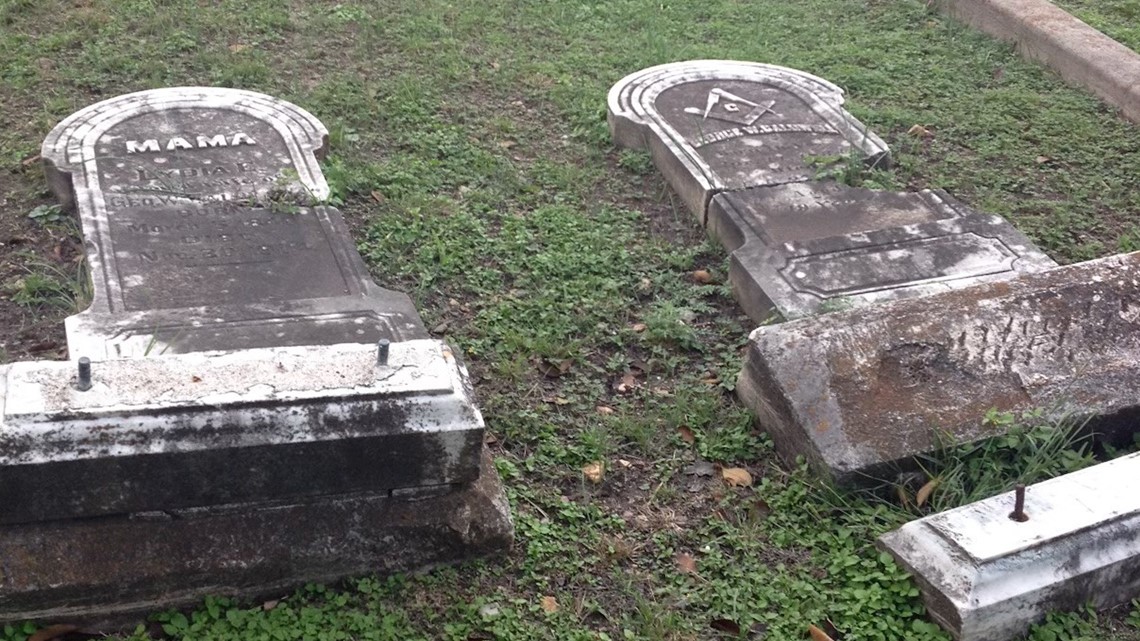 "Some of these [grave sites] are over 150 years old," said Rullo. "I don't know what's going on. People are coming in, pushing them over, damaging them. There are just so many now that are broken and not in natural ways...turned over, smashed, some are even missing. There's some mausoleums that have some tagging. Trash is always an issue."
She fears that if these historical landmarks are ruined, they'll be gone forever.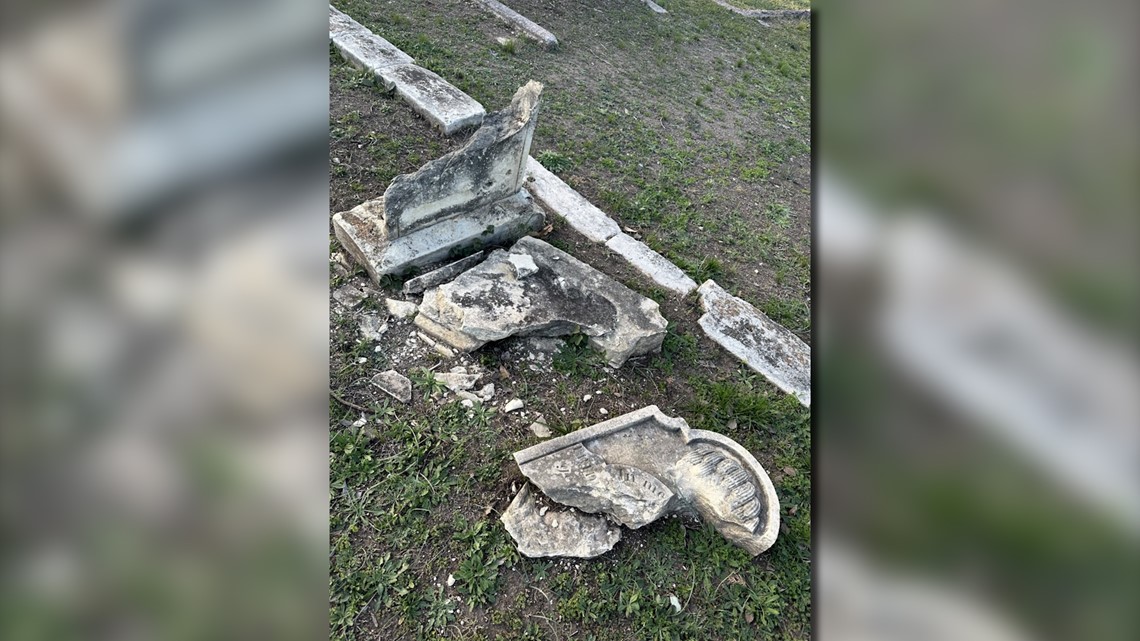 "It hurts," she explained. "That's really what got me to contact you guys is, what can we do to protect it? Beyond what's already here, what can we do together as a community to preserve our history?"
The grave markers that we often think about, said Rettaliata, require routine maintenance and care. Keeping them protected can be costly, she added.
"They're subject to weather, they're subject to deterioration and decay, natural decay and to vandalism as well," said Rettaliata.
The east side cemeteries are on the National Register of Historic Places. They're also designated as individual historic landmarks. This means, if major renovations are needed, they must be approved first.
"Any type of big repairs or work to those grave markers does require review by the Office of Historic Preservation, so we just want to make sure we aren't doing anything to further damage or to accelerate deterioration of these historic resources," said Rettaliata.
To help preserve all of these east side cemeteries for future generations, the Cemetery Steward Program was formed in 2021. It's a partnership between the San Antonio Parks and Recreation Department and the Office of Historic Preservation.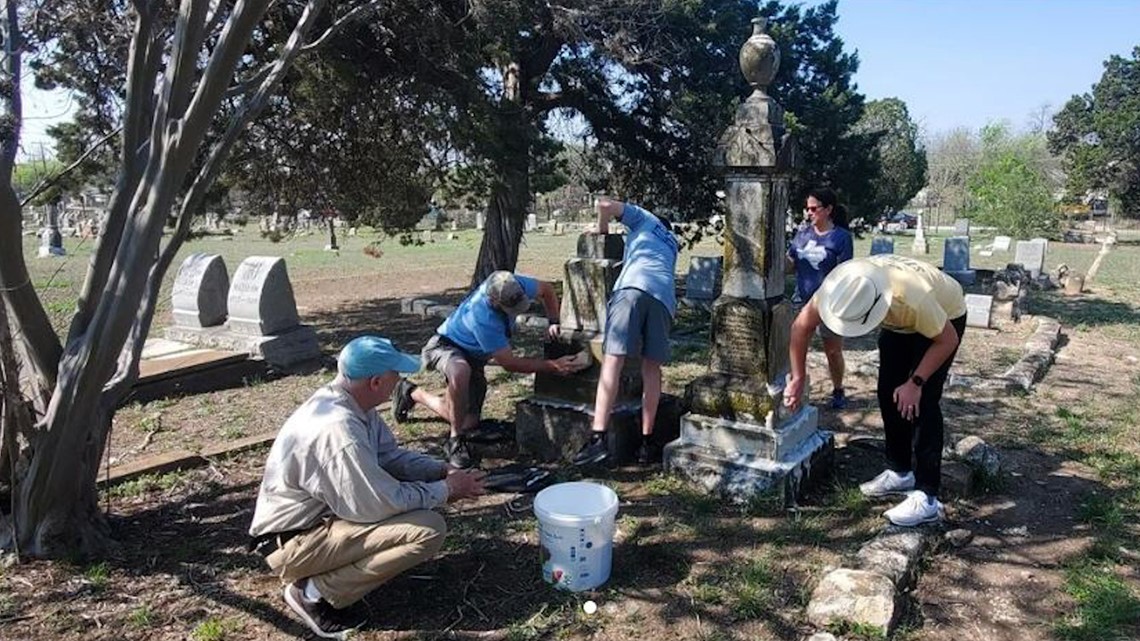 Through the program, volunteers are trained by an architectural conservator how to use the proper products and tools to clean the grave sites while documenting their work.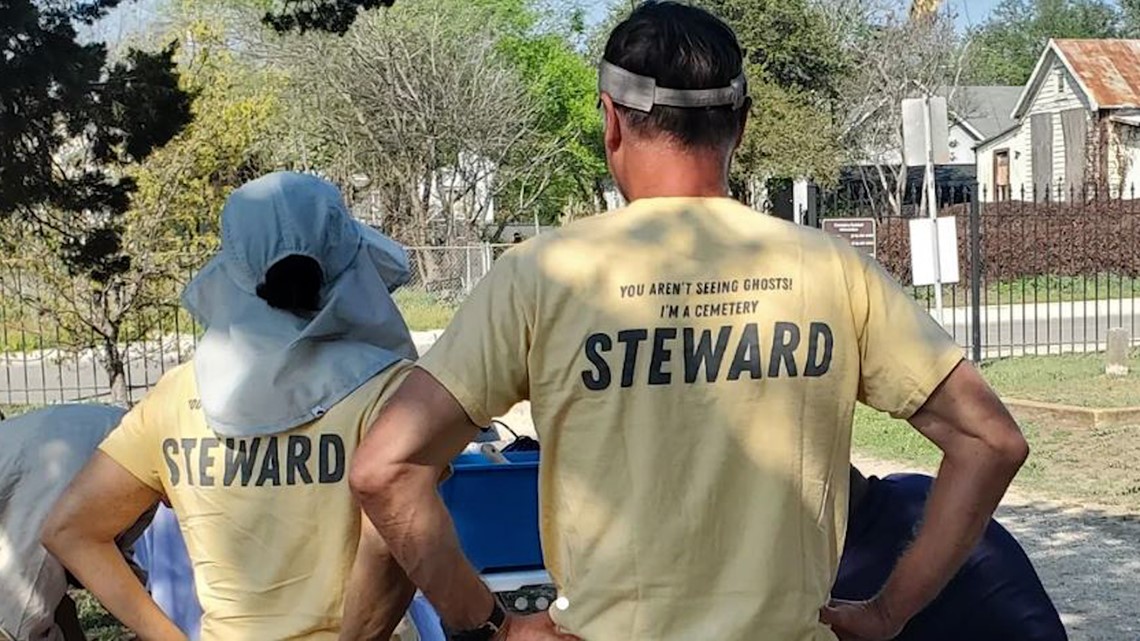 "We definitely want to celebrate the people who are interred there. They really tell the story of San Antonio," said Rettaliata. "The city as we know it now was made by the people that you're surrounded by when you're in the east side cemeteries."
The long-term goal for the Office of Historic Preservation is to eventually make the historic east side cemeteries into public spaces. Other cities have embraced this idea, helping deter crime old cemeteries experience, like vandalism.
If you're interested in attending the cemetery workshops, held on the second Saturday of each month, click here. Or you can e-mail parkvolunteer@sanantonio.gov to RSVP.
If you'd like to report a grave site that needs replacement or repair, you can reach out to the Office of Historic Preservation at 210-207-0035.