NEW BRAUNFELS, Texas — A stormtrooper in New Braunfels is encouraging his neighbors to go vote and it seems as if they are listening.
Comal County has the fifth highest voter turnout in the state of Texas with more people having cast their ballot so far than during the 2016 general election.
Every day in New Braunfels, close to 30,000 cars drive through the traffic light where FM 725 passes under I-35.
In four days, that is enough cars to represent all 115,876 registered voters in Comal County.
For the last two weeks, drivers who pass that intersection have been greeted with a friendly wave and a unique sign.
A local man dressed as a stormtrooper from Star Wars can be seen holding creative signs reminding folks to vote.
Wednesday, the stormtrooper wanted everyone to know he has done his part.
"Hi mom, I voted," the sign read.
The man inside the suit is among 67,866 Comal County voters who have already cast their ballot in the big election.
Turnout has been so high it set a record.
"Early voting has been outstanding," said Comal County Clerk Bobbie Koepp. "The crowds have been great."
The stormtrooper might have something to do with it. Koepp says the community showing up to the polls is no Jedi mind trick.
"Comal County is good at showing up for what's important to them," said Koepp. "I think they want their voices heard and so that's why they're showing up."
As of Tuesday night, 67,866 people have voted in Comal County, which means 58.57% of the 115,876 registered have hit the polls or mailed in a ballot.
Above them ranks McCulloch County with 69.91%, Blanco County with 59.91%, Collin County with 59.84% and Williamson County with 59.06%.
In the 2016 general election, 63,136 people cast their ballots in Comal County. Back then, 92,389 people were registered to vote.
More voters and added safety precautions have poll workers in a new routine this year. Koepp says overall, the process has been running at light speed.
"We did have a slight glitch due to a power surge at one of our polling locations. Because that took our machines down, we felt it was the safest to replace those machines so that we could maintain the votes that had been on those machines," said Koepp. [We] replaced them with new ones to carry forward and we haven't had any problems since."
Voters can expect a 45-60 minute wait time when polls are busy. Once voters are finished with their ballots, odds are the stormtrooper will be ready to reward them with a special dance.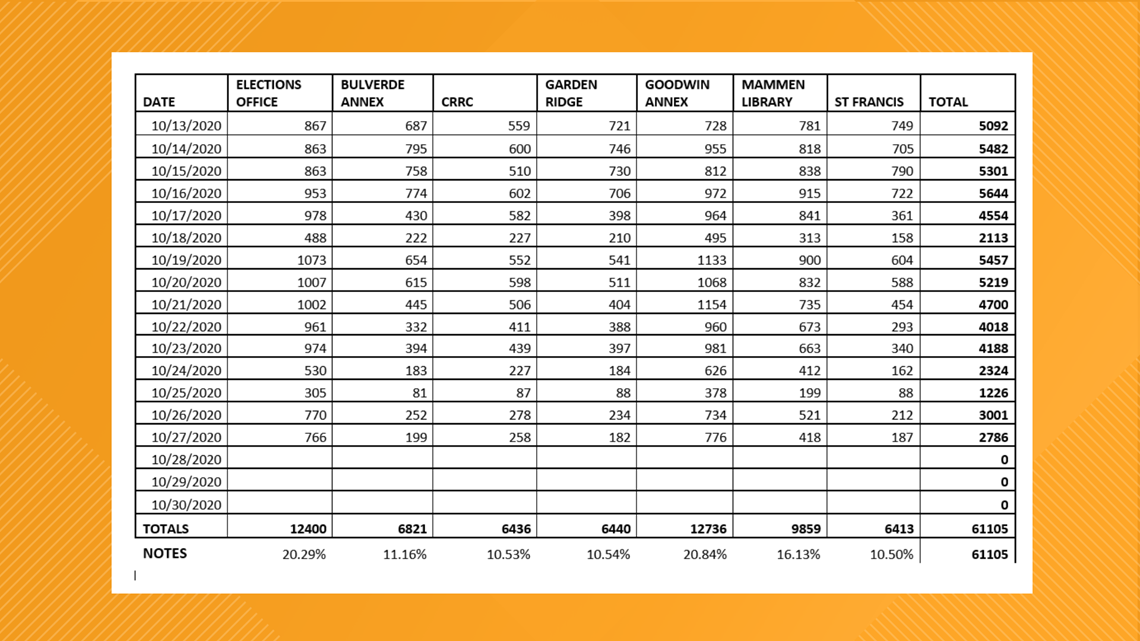 Early voting ends Friday evening. Election Day is Tuesday.
For early voting, people registered in Comal County can cast their ballots at the following locations between 7 a.m. and 7 p.m. through Friday, October 30th.
Comal County Elections Office: 396 N. Seguin Ave., New Braunfels, TX 78130
Comal County Offices, Goodwin Annex, Training Room 1297 Church Hill, New Braunfels, TX 78130
Mammen Family Public Library, Meeting Room C 131 Bulverde Crossing, Bulverde, TX 78163
CRRC of Canyon Lake, Room 1 1917 FM 2673, Canyon Lake, TX 78133
Comal County Offices, Bulverde Annex, JP2 Courtroom 30470 Cougar Bend, Bulverde, TX 78163
St. Francis by the Lake Episcopal Church, Large Room 121 Spring Mountain Dr., Canyon Lake, TX 78133
Garden Ridge Community Center, Wildflower Room 9500 Municipal Parkway, Garden Ridge, TX 78266
On Election Day, Tuesday, November 3rd, these locations are open from 7 a.m. to 7 p.m. Voters are not bound by precinct and can cast their ballot at any location they choose. The elections website notes locations are subject to change due to COIVD-19.
Comal County Senior Citizens Center 665 Landa, New Braunfels 78130
Mammen Family Public Library 131 Bulverde Crossing, Bulverde, Tx 78163
Freedom Fellowship Church 410 Oak Run Point, New Braunfels, Tx 78132
Tye Preston Memorial Library 16311 South Access Rd., Canyon Lake, Tx 78133
Canyon Springs Resort Clubhouse 691 Canyon Springs Dr., Canyon Lake, Tx 78133
Emergency Services District No. 4 Fire Station No. 4 215 Rebecca Creek Road, Canyon Lake, TX 78133
Vintage Oaks Amenity Center 1250 Via Principale, New Braunfels, Tx 78132
Lakeside Golf Club 405 Watts Lane, Canyon Lake, Tx 78133
Christ Our King Anglican Church 115 Kings Way, New Braunfels, Tx 78132
Comal County Offices, Bulverde Annex, JP 2 Courtroom 30470 Cougar Bend, Bulverde, Tx 78163
Jay F. Feibelman Garden Ridge Community Center, Wildflower Room 9500 Municipal Parkway, Garden Ridge, Tx 78266
Bulverde/Spring Branch Fire & EMS @ Johnson Ranch 30475 Johnson Way, Bulverde, Tx 78163
Cibolo Creek Community Church 30395 Ralph Fair Rd., Boerne, Tx 78015
Westside Community Center, Gym 2932 S. IH 35, New Braunfels, Tx 78130
Knights of Columbus Hall, Large Room 111 Landa St., New Braunfels, Tx 78130
New Braunfels Library, Large Meeting Room 700 E. Common, New Braunfels, Tx 78130
Comal County Offices, Goodwin Annex, Training Room 1297 Church Hill Dr., New Braunfels, Tx 78130
New Braunfels Christian Church, Fellowship Hall 734 N. Loop 337, New Braunfels, Tx 78130
The Venue at Creekside, Large Room 2032 Central Plaza, New Braunfels, Tx 78130
St. Francis by the Lake Episcopal Church, Large Room 121 Spring Mountain Dr., Canyon Lake, Tx 78133
North Shore United Methodist Church 23880 N. Cranes Mill Rd. Canyon Lake, Tx 78133
Christ Presbyterian Church, Auditorium 1620 Common, New Braunfels, Tx 78130
Rebecca Creek Baptist Church 11755 Hwy 281 N., Spring Branch, Tx 78070
River Chase Clubhouse 436 River Chase Way, New Braunfels, Tx 78132