SAN ANTONIO — Hundreds of asylum-seekers are scattered across the San Antonio International airport, waiting for planes to take them to hosts or family elsewhere in the United States.
The migrants arrive in San Antonio from ports of entry along the southwestern border. They are in the United States legally, many as political refugees.
A handful sleep overnight on the airport floor without blankets or coverings. The city is working to place more in local hotels, but many say they choose to stay inside the terminal for fear of missing a flight.
On some nights, there are not enough vacancies to accommodate the number of asylum-seekers who would like to sleep in a room.
"Last night, there were hundreds of people that stayed at the airport and we filled the hotel rooms that we had," San Antonio Human Services director Melody Woosely said. "Most of the people that stayed at the airport had early morning flights."
Some children lie on cardboard boxes that act as a barrier between the dirty terminal floor.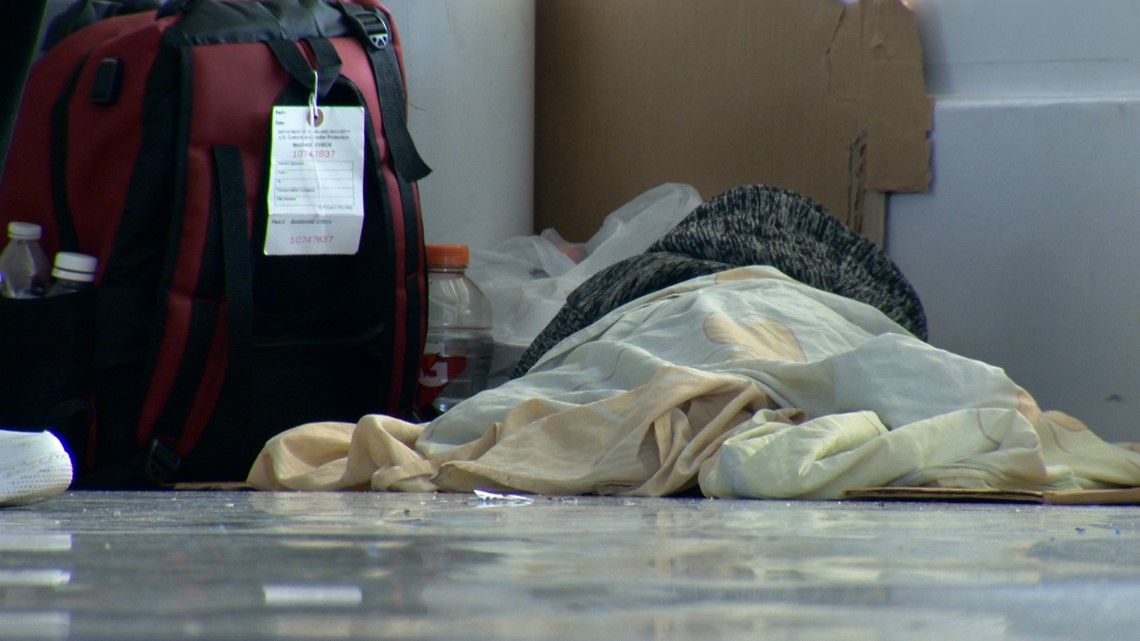 "That is something we should immediately be addressing and offering them an alternative," Woosely said. "We want this to be as compassionate a transition as possible. We'd prefer that we're able to get them into a hotel room."
The city aims to expand migrant-housing capacity to 100 hotel rooms by the end of the week.
A Haitian man at the airport told KENS 5 he arrived at the border with nothing. He says he's fleeing "bad politicians." The nation plunged further into political turmoil after President Jovenel Moïse's assassination in July.
The migrant said he has a host home waiting for him in Florida, where he hopes to establish residence so the rest of his family can join him.
An overwhelming majority of migrants staying in the airport Wednesday wore masks.
"It's a situation not of our making, necessarily, but we need to respond to it," Woosely said. "It's really putting a demand on capacity and resources - not just nonprofits, but the city as well."
The city and the San Antonio Food Bank are looking for bilingual volunteers to help situate the asylum-seekers.
The city says volunteers will help migrants navigate San Antonio International, print boarding passes and provide essential basics. Anyone who decides to help will be provided with masks, hand sanitizer and other protective equipment.
"They're being dropped off at various points in the airport and so, sometimes, we don't even know they're there until they find their way down to where we are, we run into them, or somebody lets us know," Woosely said, describing logistical complications with the surge of people.
The Food Bank also distributes sack lunches to migrants inside the airport at regular intervals.
City officials this week told KENS 5 it was "coordinating with nonprofit partners to welcome and assist migrants traveling through San Antonio en route to their host family destinations across the country."
The city says most migrants coming through the airport leave within 24 hours, though some are staying overnight.
Three volunteers shifts are being offered daily, from 9 a.m. to 2 p.m.; 2 p.m. to 7 p.m.; and 7 p.m. to 11 p.m. You don't have to speak Spanish, but the food bank says bilingual volunteers would be particularly helpful.
Anyone interested can sign up here.