If you've already seen it, you probably wondered what the heck it is. Maybe you walked up to it, peeked in the windows, if, of course, you could find the windows.
The colorful, wooden sphere is located on Monroe Center in downtown Grand Rapids in front of the historic McKay Tower, and across the street from Rosa Park Circle.
For one man, the sphere is more than just an entry into the ArtPrize competition, which officially starts tomorrow. It's also an object that has a powerful message behind its creation.
It was around 10 o'clock in the morning on September 12 when artist Loren Naji rolled into town with this giant orb securely fastened to his flatbed trailer.
"It's about 8 feet in diameter," said Naji, a Cleveland-based artist who is competing in ArtPrize Eight. "This piece exists because I want to bring awareness to certain issues."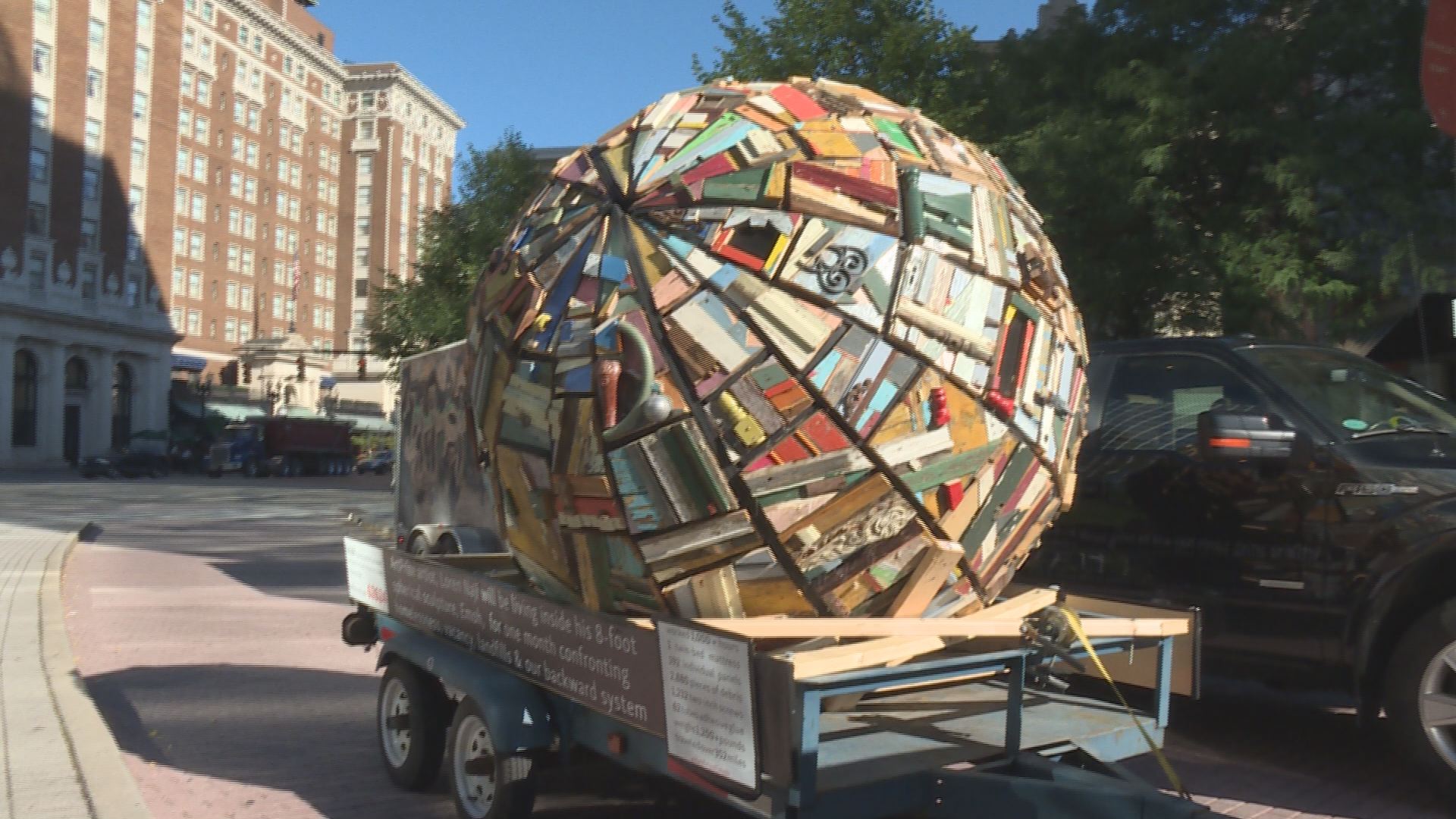 A forklift was brought in, blocking through-traffic on Monroe Center, so the big wooden ball could be lifted gently off the flatbed and placed in front of its new address - 146 Monroe Center St. SW.
"I'll be here for the next 30 days," Naji said.
This location isn't just the spot where Naji will display his provocative piece of art. It's also where he'll be living throughout the entire competition.
Yes, Loren Naji will be living inside his ArtPrize entry, which has an interesting name.
"It's called EMOH," said Naji. "E-M-O-H is the word 'HOME' spelled backwards.
"I'm sort of making a statement about our backwards system of having all these boarded-up houses in the cities and homeless people sleeping in the streets.
"It makes no sense to me."
Naji received approval from the city of Grand Rapids several weeks ago to live inside EMOH for the duration of ArtPrize.
"EMOH is my home, but in many ways I will be living like a homeless person for the next 30 days," Naji added.
Naji says EMOH is made entirely of chunks of debris he recovered from sites of demolished houses.
"I personally collected all these pieces from demolished homes in Cleveland, Detroit and Grand Rapids," Naji said. "I actually drove up to Grand Rapids several months and wanted to include pieces of debris from demolished homes in EMOH, since the piece was going to be here for ArtPrize."
The outside of the sphere has 192 different panels - each containing debris from demolished homes.
"Decomposed moldings, chair rails, whatever I could find, I managed to add to EMOH," said Naji. "The piece is made of pure garbage for a reason.
"The world needs to adjust its priorities. I think as human beings, we need to take care of the homeless people and use the resources that we have, which are all the boarded-up houses in our large cities."
Inside EMOH, Naji has a small bed, a book shelf, a fan and a drum set.
"I have been taking drum lessons, so I have a drum I will be playing while I'm living down here," said Naji.
So, if you happen to see EMOH, don't be afraid to ring the door bell and say hello, because the heart of downtown Grand Rapids has become just like home for for Loren Naji.