CLEVELAND — The pandemic has changed a lot of plans this year: Birthdays, holidays, weddings, and ... family reunions.
"I have half siblings from my mom: Billy, Sarah, Donnie, and Johnny," Janet Rinardo Travis told us. "They all have the same father. So does Karen. And so do the twins; they all have the same father."
Are you following? We're confused, too. But here's the point: There is a group of people spread out across the country, and over recent years, they found out they're related.
The dots were connected, thanks to Janet.
"I started genealogy back in the seventies," Janet said.
She got into the business of reuniting long, lost family members a long time ago. And, she's been a dedicated Search Angel for the past five years.
Through marriages, and re-marriages, she's connected to half siblings all over the U.S.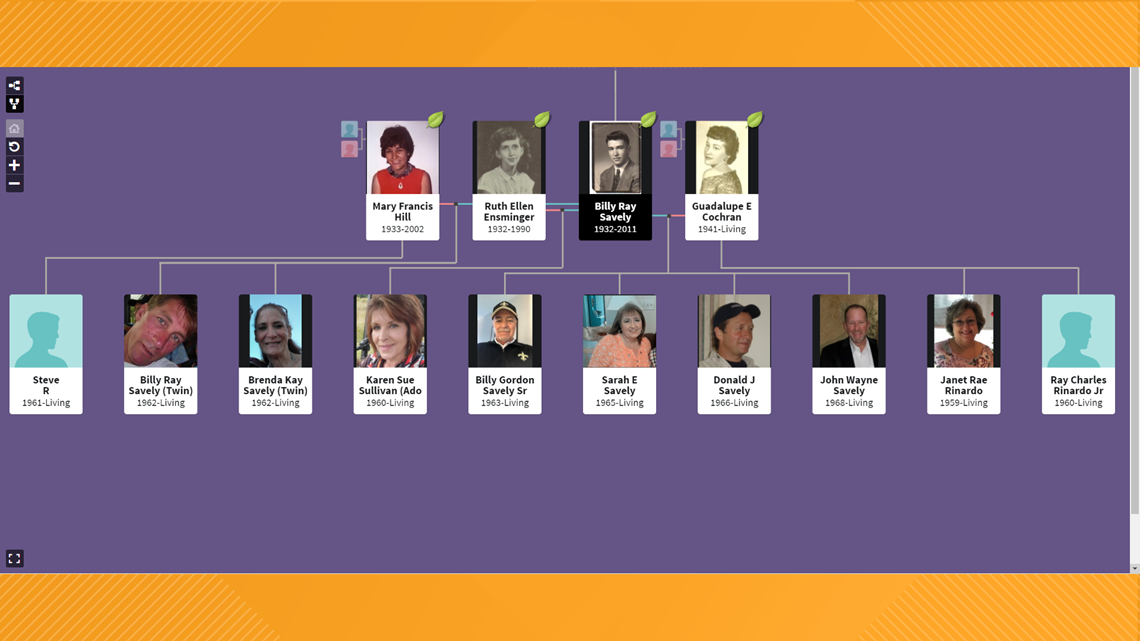 Some of them have met. Others haven't. A big reunion was in the works.
"That has been a dream. We had tried to get together. We were going to meet for a weekend or something, and then COVID hit," Janet explained.
But where there's a will, there's a way. Janet organized a virtual meet-up with her siblings on Zoom. They joined from Florida, Louisiana, Texas, Mississippi, and Ohio.
And several of them were meeting their half-sibling, Billy Ray Savely, of Cleveland, for the first time.
"First off, I cannot believe the resemblance from my mother to Karen," Billy Ray said of seeing his sister, Karen Sue Sullivan.
Billy remembers the phone call he got from Janet, letting him know he had half-siblings.
"Oh, it was incredible. I had never met my dad and to know that I'd had brothers and sisters, just blew me away," Billy Ray said.
On the call, some of them said they always knew something was missing, until they met the rest of their family members.
"It's really, really hard to explain because the love was just like instant," Don Savely said of meeting his siblings for the first time.
"It's a great feeling, but it's almost bittersweet in a sense, because we have a very close, tight-knit family. We always stuck up for each other ...been there for each other. We always helped each other," John Wayne Savely said.
They love each other, despite not having been around one another their whole lives.
"It's just, it's amazing. I'm so glad it happened," Sarah Savely said of reuniting with her siblings.
"I almost get choked up about it. It was an amazing, overwhelming, just wonderful experience," Karen said.
One day, they'll hug and share stories in person. But while they wait for that moment, Janet will keep connecting families who long for reunions, just like her own family had on that call.
"You feel like you've changed people's lives forever and they're so appreciative," Janet said.
Do you need Janet Rinardo Travis' help in finding a long-lost relative? If so, click HERE.