GRAND RAPIDS, Mich — Dozer is a 12-week-old puppy with boundless positivity and a need for snuggles.
"Anybody he comes in contact with, he loves," said Dozer's foster Lindsey Clark, who is also the adoption coordinator at Michele's Rescue. "He's not scared of anything."
It's a personality you wouldn't expect from a dog who's been through what Dozer has.
Dozer was brought by his owners to BluePearl Pet Hospital with severe chemical burns on all four paws. Michele's Rescue that has since taken over his care said the owners told BluePearl he got the burns after being locked in a bathroom and getting into the chemical clog remover Drano.
"They took off the bandages and the vet said that it was probably one of the worst cases they've ever seen too," Clark said. "And when they showed me those pictures, I was so angry, I was so upset."
With the severity of the burns, those caring for him now believe it only could have happened from hours of chemical exposure.
"I obviously don't know what happened to let this happen to him, but the person who bought the dog had no business owning an animal," Clark said.
Michele's Rescue said the owners who left him at the hospital then were unable to be reached are being pursued by police in Barry County in connection to his injuries.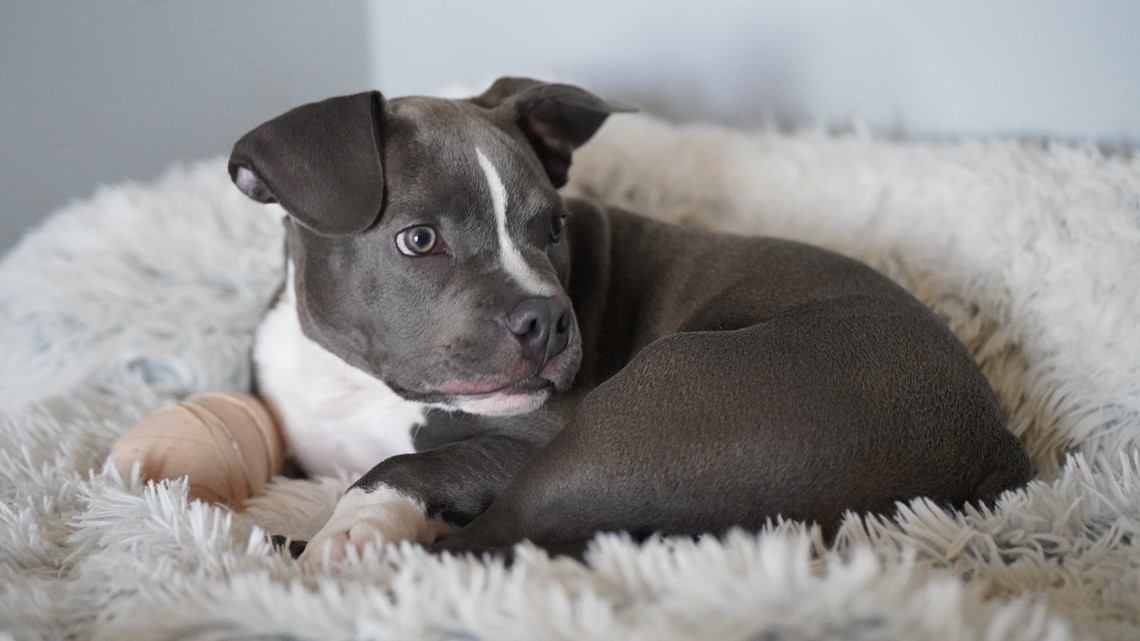 In the last three weeks, however, Clark said Dozer has come far. His bandages are changed each day, now down to just one bandaged foot.
"As we've progressed and they've been kind of removing the bandages, he's just like a normal 12-week-old puppy and now he wants to play."
As a result of the burns, down to the bone on one paw, Clark said Dozer will likely have a limp for the rest of his life.
She said those breeding and adopting out need to do their part to keep situations like Dozer's from happening.
"Breeders, shelters, rescues just need to do their due diligence when they're adopting out animals to potential owners because it could have been prevented," Clark said.
While the timeline for his healing remains unclear, Michele's Rescue hopes to adopt Dozer out to a loving home when he can be medically cleared.
With an unwavering spirit, along with plenty of cheese and peanut butter for the tough days, Dozer is well on his way to recovery.