"The Report," Scott Z. Burns's rivetingly-paced political thriller starring Adam Driver, is full of moments that'll make you wonder if the writer-director is exaggerating America's post-9/11 history. It's impossible not to—his account of the interrogation tactics utilized by the CIA in an obsessive drive to prevent another attack is as bold-faced as the contractors who were trying to justify their actions.
The segments in which detainees are waterboarded and kept from going to sleep by the heavy metal blasting from all sides feel like a horror movie, the torture itself surpassed only by the sinister matter-of-factness of those who weren't seeking information so much as simply taking out their anger on somebody. They're infuriating images—especially in light of what we know now, namely that no useful information came of the Enhanced Interrogation Techniques Program.
But Burns's smartly-crafted structure assures there's no disbelief to suspend. We're not allowed to pretend when it comes to this part of our history. His screenplay flashes between the post-9/11 practices, conducted by those who couldn't separate their paranoia from their rage, and the eventual Senate Intelligence Committee investigation – headed up by Driver's Daniel Jones – excavating long-buried information with the same shock and incredulity being felt by the viewer.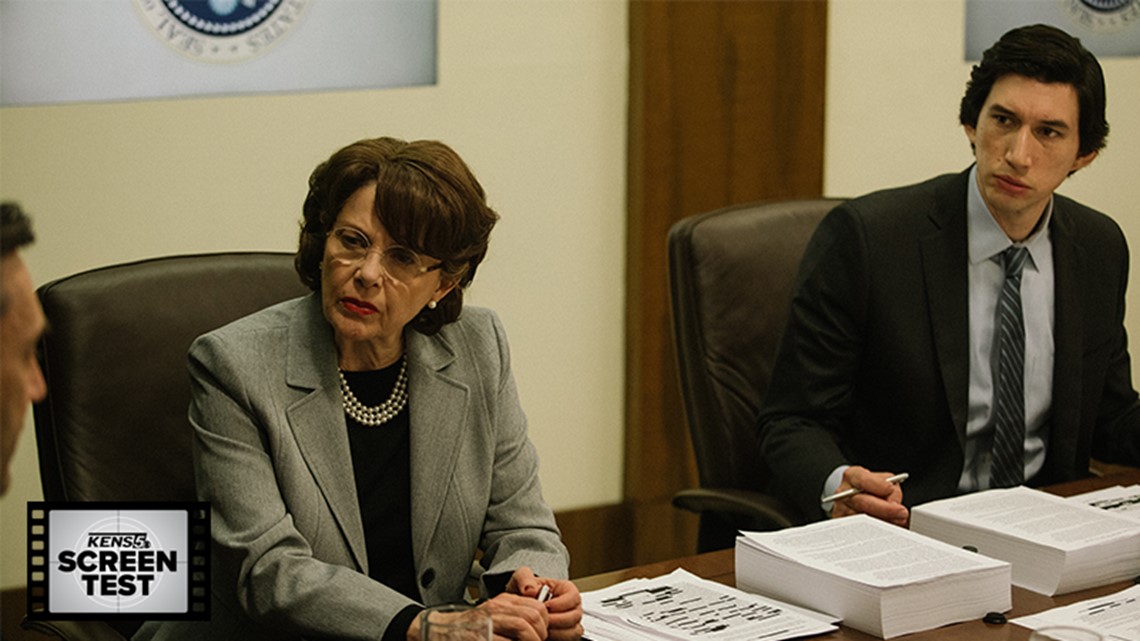 As Jones and his team sit in what amounts to a bunker examining thousands and thousands of CIA documents over a period of years, occasionally providing updates to Annette Bening's Dianne Feinstein, "The Report" thrillingly manages to take on the weight of what was a history-illuminating, and history-shifting, procedural. Scenes that feel ripped from "All the President's Men" – rendezvous in dark parking garages, the urge to share new revelations with the world – give "The Report" a cinematic heft that extends beyond the screen and into our reality. What's happening onscreen feels of vital consequences precisely because it is of vital consequence.
One remarkable thing about Burns's screenplay is its consistent ability to convey the complex machinations and motivations that fuel every decision made in the halls of the U.S. Capitol without losing its way, and mostly without losing us in the process. Jones and his team discover new things about the CIA's torture practices at a rapid-fire pace that echo the split-second maneuvering of contemporary politics, and Burns's spitfire dialogue injects a liveliness that draws you into a story that could otherwise easily shun those attempting to unravel it—much like Jones experienced in his investigation.
"The Report" is a triumph of macro-level cohesion; even at points in the third act when the facts start to feel overwhelming, there's something fascinating about imagining that as intentional on Burns's part, a way to provide a taste of the labyrinthian relationships that keep the world's most powerful country churning. It also puts us in the shoes of Jones, who is constantly faced with the possibility that his discoveries will never meet the public's eyes and scrutiny.
If there's a downfall to Burns focusing on a large carousel of characters – an endlessly wonderful ensemble including the likes of Bennet, Jon Hamm, Ted Levine, Michael C. Hall and Sarah Goldberg – it's that the lack of in-depth exploration into any of these personalities' personal lives can occasionally leave our time with them feeling a bit empty on pathos.
Still, "The Report" is a propulsive watch—condensing more than a decade of developments into a breezy two hours is an accomplishment in itself, but then the movie is also an urgent document. The conversations, strategies and provocations Burns hops between feel like the different war rooms of an international conflict, but it's a piercing revelation to realize that everyone who has a stake in the creation of the torture report pledges allegiance to the same flag. To reckon with our sins, we must first be able to pull back the cover from them—but how can that happen when optics supersede duty?
It's an undying contradiction that drives Jones slightly mad. Unlike those around him, he's motivated by a single thing – bringing the truth to light, preferably not via the road taken by Edward Snowden – and Driver's portrait of a man obsessed in his pursuit is an engrossing one. There are moments you wish he would just take a damn moment to breathe as he spills new information to Feinstein, as if the ferocity of his moral code may just be enough to propel the politicians employing him into doing the right thing.
It's Mark Ruffalo's iconic "They KNEW!" scene from "Spotlight" stretched out over the course of a whole movie, but without any sense that Driver is overdoing it. Mostly, that's because we end up wanting the exact same thing: For accountability to be had, by the most legal of means.
We didn't need "The Report" to expound on the cutthroat nature of the corrupted powers that be in 21st-century America. Burns knows it, and his movie does too; right when you expect him to start preaching about how we must return to the values that he's suggested can only ever be fantasy, the director utilizes a bit of real-life C-SPAN footage that feels utterly of the moment, and for it, too. The charge is as simple as it could be – the truth must be the goal – and it's presented as if our future depends on it. Who are we to believe for a second that it doesn't?
"The Report" releases Nov. 15 in San Antonio theaters and begins streaming Nov. 29 on Amazon Prime. It is rated R for some scenes of inhumane treatment and torture, and language.
Starring: Adam Driver, Annette Bening, Jon Hamm, Ted Levine
Directed by Scott Z. Burns