You haven't met a family at the movies this year that's easier to hate than the chronically self-righteous, self-serving Thrombeys, who shamelessly leech off the wealth of patriarch Harlan – a successful mystery writer – and for whom the suggestion of creating something with their own hands seems more like cruel and unusual punishment than a gentle nudge towards individual autonomy. The movie's stunning carousel of actors (among them Michael Shannon, Toni Collette, Jamie Lee Curtis and Chris Evans) fills their shoes with exaggerated greed and understated villainy, but this family's mask of superiority also indicates something deeply ingrained—a resentment for all things unfamiliar, and for those who enter their cavernous country mansion without permission.
At the start of Rian Johnson's caustically funny and cleverly-constructed "Knives Out," the Thrombeys are grieving Harlan's death. The evidence seems to indicate he committed suicide the week before, just as he had turned 85 at a party attended not just by his family, but also his nurse, Marta (a great Ana de Armas somehow still in the breakout phase of her career). A week later, the police are back for another round of questioning, this time accompanied by man observing from a distance: Detective Benoit Blanc (Daniel Craig, fiendishly good and spilling words like molasses with a southern drawl). Suffice to say, the case may not be an open-and-shut affair as previously thought, and Johnson, working from his own scrupulous screenplay, continues a career-long mission of leaving his mark on well-worn genres while thematically elevating them to new levels.
Johnson is a filmmaker with rare levels of respect for his characters and the actors he hires to bring them to life. Ensemble casts have become a trademark of his stories – his last of which, "The Last Jedi," had him operating on what was by far his biggest budgetary and creative canvas – but they haven't had as much fun as in "Knives Out." Evans is on a mission to find whatever the yin to the stately Captain American's yang is, and the ever-incredible Collette feels possessed with the blasé spirit of a daddy's girl who just wants several hundred ponies for her birthday. TV veteran K Callan makes the most of her near-totally-mute part as the 950-year-old bugged-out Greatnana Wanetta; Christopher Plummer is characteristically wonderful; and Jamie Lee Curtis's feigning as the one who seems most worthy of the viewer's sympathies is just an illusion for what the movie's cooking up for later.
Johnson doesn't have to be made aware of the firepower he has amassed with this cast; it's just a few minutes into "Knives Out" that he begins to let them rip, plunging the viewer into a mosaic of unreliable narrators, accusations and darkly comic elitism.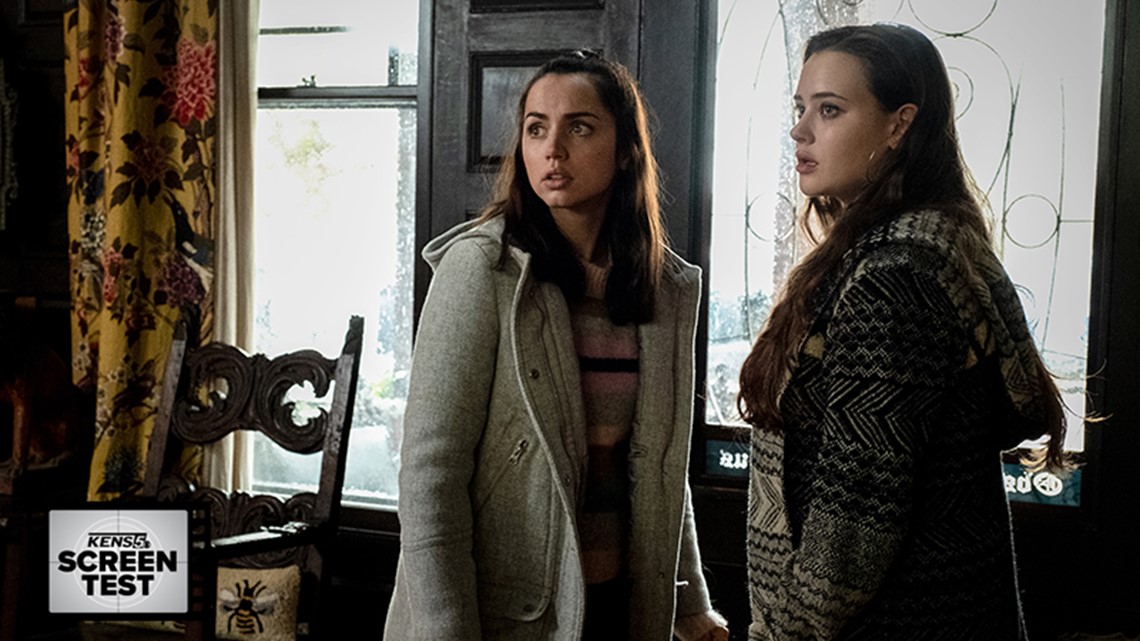 But Marta – quiet, a bit timid and an immigrant – is the focal point of "Knives Out," and the easy anchor for our loyalty when everyone else being questioned by Blanc is so untrustworthy. We have reason to believe she might be untrustworthy, too, but the film makes it easy to side with her over the vain Thrombeys, who are just a few degrees removed from the bloodthirsty Le Domas crew from this summer's "Ready or Not." Marta is ostensibly accepted as part of the family, but in watching how they treat her (in one of the movie's best running bits, none of them can agree on where she's from) it's impossible not to recall a line from Bong Joon-ho's "Parasite," another 2019 movie with 2019 society on its mind: "They're nice because they're rich." And as the plot unfolds, they don't remain quite as nice.
Putting "Knives Out" in the context of his filmography, the movie most strongly echoes the director's cool and confident 2005 breakout "Brick," which toyed around in the noir sandbox (replacing smoky P.I. offices with suburban cul-de-sacs) and also centered on the mystery behind a dead body. The scale of Johnson's latest is arguably even smaller than that movie – especially compared to his bigger-budget recent projects – but it's to the filmmaker's advantage, allowing him to strike and maintain clear tones of whimsy with a dash of morbidity and tension. Johnson bounces around his murder-mystery confines with a cheery self-awareness ("The house is practically a Clue board") and a warm autumnal aesthetic gleefully at odds with the schemes and murderous intents filling its crevices. We learn about things we maybe should have seen coming, yes, but part of Johnson's brilliance is his foresight at knowing where our suspicions will turn to, and dousing it in invisible ink.
That stroke of genius becomes a delicious canvas of genre subversion – and then evolution – as Johnson gives some slack to the leash he has us on. The laws of the genre dictate we only ever know as much as our detective hero does; instead, "Knives Out" provides the unusual courtesy of making audiences privy to information that Craig's Blanc doesn't yet have, and it does so fairly on. What's the director playing at? Johnson empowers us into believing we're one step ahead, and it's immense fun when we discover we're not, as the plot twists begin to resemble a stream of cinematic consciousness in its hugely enjoyable final third. If there's any downside, it's that the ingenuity of his screenplay renders its cheapest attempts at sentimentality moot. Movies rarely feel so classically contemporary.
But the film is also one unabashedly of the MAGA moment, the director eventually leaning in with his magnifying glass to explicitly political predilections. Harlan Thrombey's death is the focus of Blanc's investigation, but current headlines are that of Johnson's. When "Knives Out" reveals itself as unfolding in a world where the newspapers bear stories so familiar so as to transcend mere world-building, it shakes up our expectations as much as any other grenade of a twist Johnson tosses our way. Are movies allowed to do this? Can "Knives Out" draw clear parallels with our political reality, and take a staunch stance doing so, without sacrificing its more evergreen charms? The movie's politics will already feel outdated by the time the next administration takes office, if not sooner, but Johnson is a sly cat of storytelling. He blends narrative and character for a sense of catharsis that he continuously refines over the course of the film, reaching emphatic heights that no movie-watcher in their right mind would resist. We get to the bottom of who, what, when, where, why in regards to Harlan's death—the filmmaker also slips in a "who the hell do you think you are?" directed at a person who I don't expect will be screening "Knives Out" at the White House anytime soon.
There's an elasticity to the story that allow the writer-director's implications to remain clear even as his Russian nesting doll of an Agatha Christie homage remains center stage; the movie's final shot is a legitimate contender for 2019's most satisfying visual coda precisely not because this constant delight of a mystery has been solved, but because of who emerges victorious from the gladiator battle of vitriolic entitlement.
"Knives Out" is out now in San Antonio. It's rated PG-13 for thematic elements including brief violence, some strong language, sexual references and drug material.
Starring: Daniel Craig, Chris Evans, Ana de Armas, Jamie Lee Curtis