The first thing you notice in Peter Strickland's "In Fabric" are the synthesizers. It's impossible not to—the hypnotic, brazen, constantly-droning score from German alternative group Cavern of Anti-Matter makes the music of "Stranger Things" feel tame in comparison. Once the credits roll two hours later, however, the synths are far from the most evil element of Strickland's viciously bizarre horror movie, in which consumption is the all-powerful curse of capitalism literalized in bloody, discordant ways.
Undercurrents of eroticism and sinister intention dominate the socially abrasive world of Strickland's film (an A24 joint if there ever was one), making it easy to be on the side of the middle-aged Sheila (played by the English actress Marianne Jean-Baptiste, whose work in 1996's "Secrets & Lies" garnered her an Oscar nomination) as she searches for a second shot at love. Meanwhile, her son's friend/artistic model/sexual partner (a vampiric Gwendoline Christie, making me curious why she isn't being cast in projects left and right) practically moves into their home, and the managers at the bank where she works humiliate her daily, to cartoonish levels.
You can't really blame Sheila, then, when she visits the local boutique and splurges on an eye-catching blood-red dress having been easily persuaded by a pale-faced store employee who speaks in arcane tongues ("Dimensions and proportions transcend the prisms of our measurements.") and who surely – surely – leads a coven, or else sleeps in a coffin. Perhaps the coven lies in a twisted underworld below the boutique, and perhaps the red dress won't reverse Sheila's fortunes so much as heave them into hellfire as it hovers ominously over beds and takes on an air of the malicious.
"In Fabric" isn't shy about its Dario Argento inspirations, which is both to its advantage and to its detriment. On the one hand, this is a movie of strange images and ritualistic acts that break the barrier between reality and hallucination, all dressed up in macabre suspicion without explicitly cluing us into the overarching motivations of what lies beneath Dentley & Soper's department store. Before long, you start to wonder if there are any at all. If the movie does have concrete ideas of its own – and some thematic remnants of gender construction and the fetishization of labor do occasionally creep out from the darkness – it's weighed down by the movie's over-indulgence on aesthetic.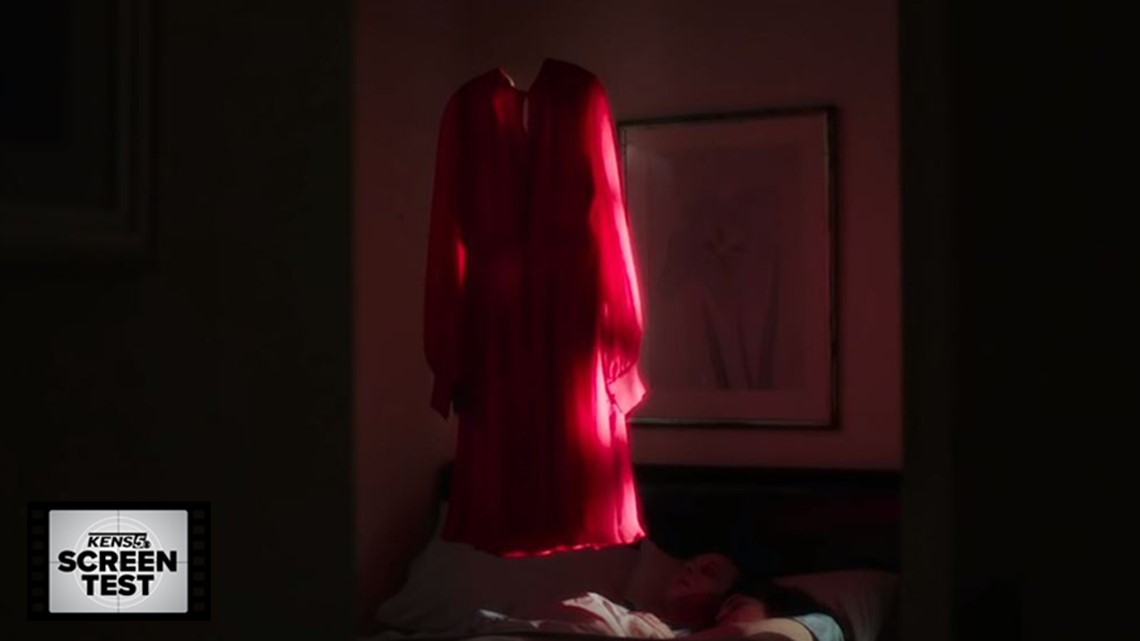 Not that there isn't delight to be had from "In Fabric's" occasional bloodshed, frequent sensory chaos and secular silliness. This is a movie with Big Suspiria Energy—it's evident in the movie's infatuation with bold blacks and bolder reds, as well as the queasy sensation that comes from this world largely resembling our own, save for the few loose screws that make it utterly unpredictable to journey through. The violent outbursts of "In Fabric" are actually fairly few – and brief – for a movie in which violence seems to always be creeping overhead, but cinematographer Ari Wegner makes them intimately terrifying events all the same.
Wegner's camera also has a knack for keeping the camera close up on the details of things – much too close for comfort, certainly – without informing us of what exactly we're examining. The devil is clearly in the details, but does he know we're watching? It's these moments, along with an audacious narrative sleight of hand that Strickland slips in around the movie's midpoint, that make "In Fabric" the stuff I imagine hardcore horror fanatics will delight in picking apart over the course of years. Its stitches are free of sense or logic, but it'll fit any desire for cinematic lunacy with total (dis)comfort. Satisfaction, and insanity, guaranteed.
"In Fabric" is rated R for strong sexual content including a scene of aberrant behavior, and some bloody images. It's out in select San Antonio theaters Dec. 6.
Starring: Marianne Jean-Baptiste, Sidse Babett Knudsen, Hayley Squires, Leo Bill
Directed by Peter Strickland