UTSA (1-0) vs. Colorado State (0-1)
Kickoff: 3 p.m., Hughes Stadium, Fort Collins, Colo.
Series record: CSU leads 1-0
Last meeting: CSU 33, UTSA 31, Sept. 26, 2015, Alamodome
SAN ANTONIO – A victory in their season opener at home neatly tucked away, the UTSA Roadrunners now face their first road test under first-year head coach Frank Wilson.
To hear UTSA players talk about it this week, they're ready for the challenge they'll face against a Colorado State team eager to atone for last week's season-opening loss to rival Colorado.
"We're hungry, we're hungry," said safety Jordan Moore, a graduate transfer from LSU who started last week. "We feel like we've been starved since this program was created and we're hungry."
UTSA made Wilson's debut in San Antonio last week a memorable one, beating FCS school Alabama State 26-13 at the Alamodome. Junior quarterback Dalton Sturm had a stellar game, with 20 completions of 25 passes for 274 yards and two touchdowns. Sturm, who had one pass picked off, also ran for a 51-yard TD.
"We just can't get satisfied," junior wide receiver Marquez McNair said. "We've got to keep working. We're playing a better team this week. We've got to eliminate all the mistakes and execute plays."
Sturm will start again this week, Wilson said, but he added that there is a "high possibility" graduate transfer Johnson will play. Both quarterbacks played in last week's game. Johnson, a standout at Sam Houston the past three seasons, was in the game for four possessions, hitting 2 of 8 passes for 13 yards.
The Roadrunners' win last Saturday came a day after Colorado rolled to a 44-7 rout of Colorado State in Denver. CSU beat UTSA 33-31 last year in San Antonio, holding off a second-half Roadrunners rally after the Rams went up 30-17 with 6:07 left in the third quarter.
Running back Jarveon Williams slashed through the CSU defense for 170 yards and two TDs on only 13 carries (13.1 average). His 85-yard scoring run, combined with Daniel Portillo's extra-point kick, cut the Rams' lead to 33-31 with 10:28 remaining.
Williams finished with only 29 yards in the season opener after missing the second half with a sprained ankle. He is listed as probable for Saturday's game.
The Roadrunners outgained Alabama State 449-287 in total offense, getting 162 yards rushing and 287 passing. McNair and Kerry Thomas Jr. had strong games in the opener for UTSA. McNair finished with three receptions for 49 yards and a TD, and Thomas also had three catches for 41 yards and a TD. McNair is a nephew of late NFL quarterback Steve McNair.
The Roadrunners limited Alabama State to 145 yards rushing and 142 passing.
"It's just amazing, man," Moore said. "I had to drop a tear during the game, after the game. So much excitement, so many emotions. Such a great opportunity, I couldn't do anything but thank my coaches, thank God, first and foremost, and my family for supporting me in my decision to come here. It's been worth my while."
Moore, from Atlanta, played football at TCU for three seasons and also ran track for the Horned Frogs before transferring to LSU in 2015. He hadn't played in a football game since his junior season at TCU in 2014, when he played mostly on offense.
Moore is one of three graduate transfers from LSU, where Wilson was an assistant coach under Les Miles for six seasons before landing his first head-coaching job at UTSA in mid-February. The other two former Tigers are offensive tackle Jevonte Domond and linebacker Ronnie Feist, and all three players are starters.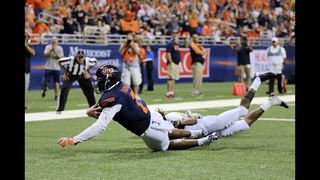 Moore likes the Roadrunners' frame of mind heading into their road opener.
"We've got a new mindset," Moore said after a workout this week. "Everybody wants to come out here and be great every day. It's hard waking up at 5, 6 in the morning, but once everybody gets going... I really like the 6 o'clock in the morning because you wake up in the morning and you're like, 'It's football time.'
"You've got to wake up with your mind right. You come half-stepping in practice, you're going to get hurt. That just first and foremost, because that's football. I wake up with a mindset every day to get my guys ready, and get myself ready."
UTSA won its season opener despite committing four turnovers – three fumbles and one interception – but the Roadrunners were glad just to get the "W" after last year's 3-9 finish.
"You've got to be grateful," Moore said. "Beggars can't be choosers. We're working toward something great and we'd rather have a 1-0 than an 0-1 on our record. You can win pretty. You can have 74 points, but if you get beat 75-74, at the end of the day all they remember is that you got beat.
"Wins are hard to come by. You've really got to cherish those moments for that day. The next day, you've got to get back up and get ready for your next opponent."
Moore is a good friend and former teammate of 2011 Madison graduate Aaron Green, a running back who played at TCU for three seasons after spending his freshman year at Nebraska. Green made the Los Angeles Rams practice squad as an undrafted rookie free agent this summer.
Moore, who ran track at LSU the past two years, graduated from the Louisiana school in July with a sociology degree. He is taking postgraduate courses in business administration at UTSA.
(© 2016 KENS)